AM
800a
845a
930a
1015a
1100a
1145a
PM
1230p
115p
200p
245p
330p
415p
500p
545p
630p
AM
811a
856a
941a
1026a
1111a
1156a
PM
1241p
126p
211p
256p
341p
426p
511p
556p
641p
PM
1206p
1251p
136p
221p
306p
351p
436p
521p
606p
651p
PM
1213p
1258p
143p
228p
313p
358p
443p
528p
613p
658p
PM
1220p
105p
150p
235p
320p
405p
450p
535p
620p
705p
Route 18/26 – North Loop runs only on Sundays
Route 18/26 – North Loop runs only on Sundays in place of Route 18 and 26. It serves Glendale Town Center and Keystone at the Crossing every 45 minutes from 8 a.m. – 6:30 p.m.
Use Route 18/26 to connect with Routes 17 – College and 19 – Castleton.
Quick Trip Planner
Track My Bus
Already have your trip planned? Use our new Track My Bus feature to follow your bus in real time.
Go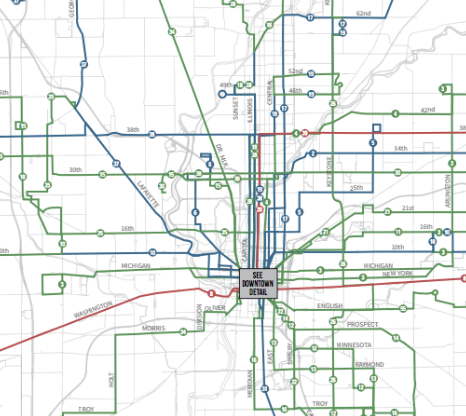 Full System Map
Download the full system map to view all IndyGo bus routes in a PDF.
Download PDF
All Routes Maps
Click the button below to download all of the individual IndyGo route maps.
Download All Routes Map