Sponsored Rides Program for Students
IndyGo has partnered with area high schools to offer unlimited access to its bus network to participating students who have been issued a MyKey card. These student's high school-issued ID card is embedded with IndyGo's new fare collection chip technology. Students can use their MyKey student ID card to commute to and from school, work and extracurricular activities throughout the year any time IndyGo is in operation. This means they can also use IndyGo to simply explore the City of Indianapolis.
Back to School Travel Trainings
Choose to GO with your smartphone or reloadable card on bus rapid transit or local bus service. To learn more about MyKey click here.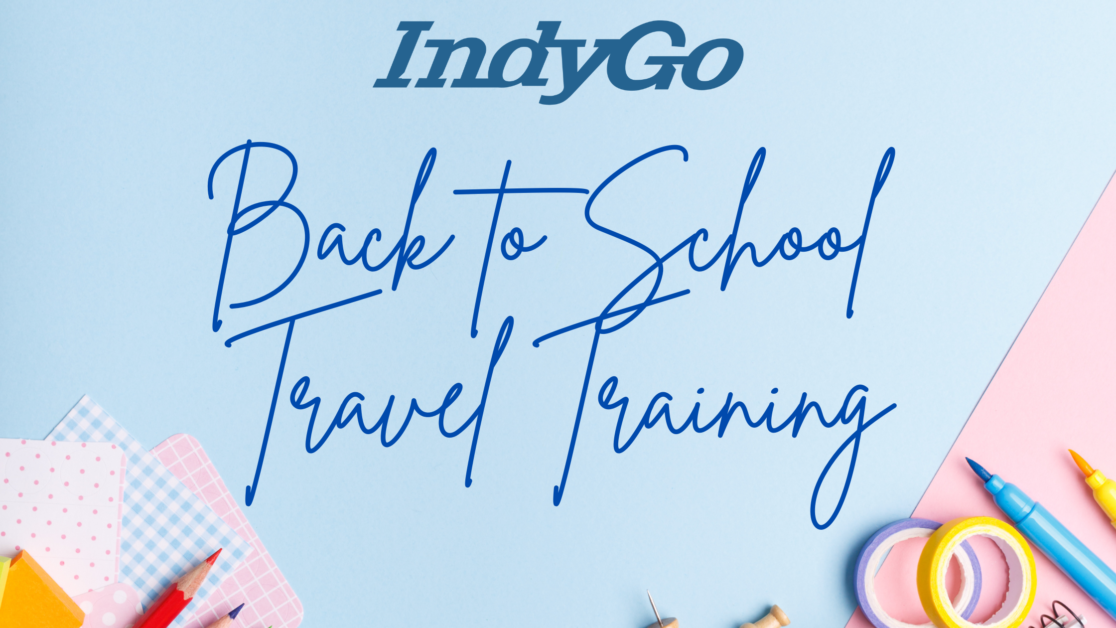 Frequently Asked Questions
The information below applies only to those students who are participating in IndyGo's Sponsored Rides Program for Students who have been issued a MyKey card. For more information about IndyGo's student discount allowing for any student to receive IndyGo's half-fare bus pass, visit our Fares & Passes page.
What does the MyKey card look like?
Participating students' school issued student ID has IndyGo's MyKey tap technology embedded inside the ID. In some instances, the school and/or district has elected to print the MyKey logo directly onto the ID.
How much does it cost me to ride IndyGo with my MyKey card?
Through IndyGo's Universal Sponsored Rides Program for Students, there is never a direct cost to students or their families. Instead, IndyGo extends participating schools a deeply discounted, annual price in exchange for the opportunity to learn more about this new fare collection system.
When can I use my MyKey card?
All participating students can use their MyKey card on any fixed route, including the Red Line, at any time IndyGo's buses are in service. More flexible than your typical school transportation, participating students can use IndyGo to get to and from school, after-school activities, jobs and any place they need to go.
How do I use my MyKey card?
Even though the ride is free, all participating students must tap their MyKey card on a MyKey card reader to validate their ride each time they board a bus or when they get to a BRT station. On local (non-Red Line) buses, card readers are on the bus next to the farebox. On the Red Line, students must tap their card on the card reader at the station before boarding the next bus.
Students should be sure to tap their card on the card reader long enough for it to read the card and until the screen says, "Checking your account." (See what that screen looks like in the video above.) Only then should they pull their card away. The card reader will make a confirmation noise once it has successfully read the MyKey card.
The validator will say, "Try Again" if the student removes their card too quickly. The card reader will reject a card if it is tapped multiple times in a row. The card reader will also reject a card if it has been suspended or deactivated.
What if my MyKey card is lost, stolen or damaged?
If a student's MyKey card student ID is lost, stolen or damaged, they must contact the program administrator at their school. The lost, stolen or damaged card will be suspended and the student will be issued a replacement MyKey card. Note the school may charge the student a fee to replace the card. Also note that punching a hole in a MyKey fare media/student ID will likely damage the technology inside.
How do I know which route to ride?
Students can use IndyGo's Trip Planner or Google Maps to determine which routes to take to get to where they want to go. Students with a smart device can use the MyStop mobile app to plan their trip, and to track their bus in real time.
I have more questions about riding the bus. Where can I learn more?
Check out IndyGo's Rider Guidelines for even more information about how to ride, or request a Travel Training from IndyGo's Community Outreach team.
Having trouble with your MyKey card? Report it here.