COVID-19 UPDATE: INDYGO IS COMMITTED TO SAFELY SERVE
This page was last updated on May 28, 2020.
Effective June 1, IndyGo will resume regular weekday schedules Monday through Friday. Saturday and Sunday service will remain as scheduled. The Carson Transit Center lobby and restrooms remain closed, except for riders buying fare at the Retail Desk during regular business hours. Learn more:
IndyGo will honor bus passes activated prior to March 29 when fares were suspended. Riders should bring their activated pass to the retail desk during business hours to be issued a new pass for the remaining balance.
Riders with questions or comments may still reach Customer Service during regular hours at 317-635-3344 or online at https://www.indygo.net/contact-us/.
If you do need to ride, we encourage you to please keep as much distance as possible between yourself and others and to wear a face covering if you are able. To help reduce the spread of COVID-19, we will continue our increased cleaning and disinfecting of our buses, as well as provide additional antibacterial stations at our facilities.
Lost & Found Items 
Due to the closure of the CTC, lost and found will be processed through the call center. To identify items and schedule retrieval, call 317.635.3344. Please note, we are not responsible for lost or stolen items. Items will be kept for 7 days.
Your safety is important to us and we take this responsibility very seriously. We will continue to follow the guidance of the CDC, the Indiana Department of Health, and the Marion County Public Health Department for best practices.  
Carson Transit Center
The lobby will be fully closed to the public to promote social distancing.
Vehicle and Facility Cleaning:
Providing additional antibacterial stations at the Carson Transit Center
Increasing the frequency of bus cleaning and sanitization which includes Electrostatic Disinfection.
What is Electrostatic Disinfection?
This treatment will help disinfect hard to reach areas and will also provide a thin barrier for longer-lasting disinfectant.
How does it work? 
The mist will be sprayed into the interior of every bus. The spray contains particles that adhere to surfaces and will coat any surface. The Electrostatic spray gives a negative charge to the disinfecting solution allowing the solution to stick to surfaces.
Wear a mask on board for extra protection. If riders don't have a face mask, riders are encouraged to wear other face coverings, such as a bandana or scarf, while riding (Face coverings are not required for riders!)

Wash your hands with soap and water for at least 20 seconds

 or use hand sanitizer if soap and water are not available.

 
Avoid 

touching your face, especially 

your

 eyes. 

 

Use a tissue when you sneeze

, then throw the tissue in the trash.

If you don't have a tissue c

over your sleeve. 

Cover your cough 

with your sleeve. 

Stay home if you are sick.
IndyGo will continue to communicate updates and service impacts on Facebook, Twitter, and Instagram (@IndyGoBus). Additionally, we recommend subscribing o our newsletter for email alerts. 
Additional Resources:
We will continue to update this page with the most current information.
IndyGo + Uber
While a challenging time to address transportation needs, IndyGo remains committed to continuing to provide transit service throughout the COVID-19 pandemic in a way that prioritizes both driver and passenger health. IndyGo is pleased to announce a partnership with Uber to offer essential employees a significantly reduced rate for one round trip per day, to and from their workplace, that began on April 23 through the end of May. Click here to learn more about the program.
RIDERSHIP
Ridership in March reflects the guidance of government and health officials to limit group gatherings and restrict travel to essential trips only. The graph below shows weekly ridership based on preliminary local and bus rapid transit service data beginning March 2, 2020 and excluding routes 901/902. This information is subject to change at any time as new data are collected and validated. Data collection and validation methods are also subject to change in response to new safety measures, including the temporary suspension of fares. These figures are for informational purposes only and are not intended for auditing or financial reporting purposes.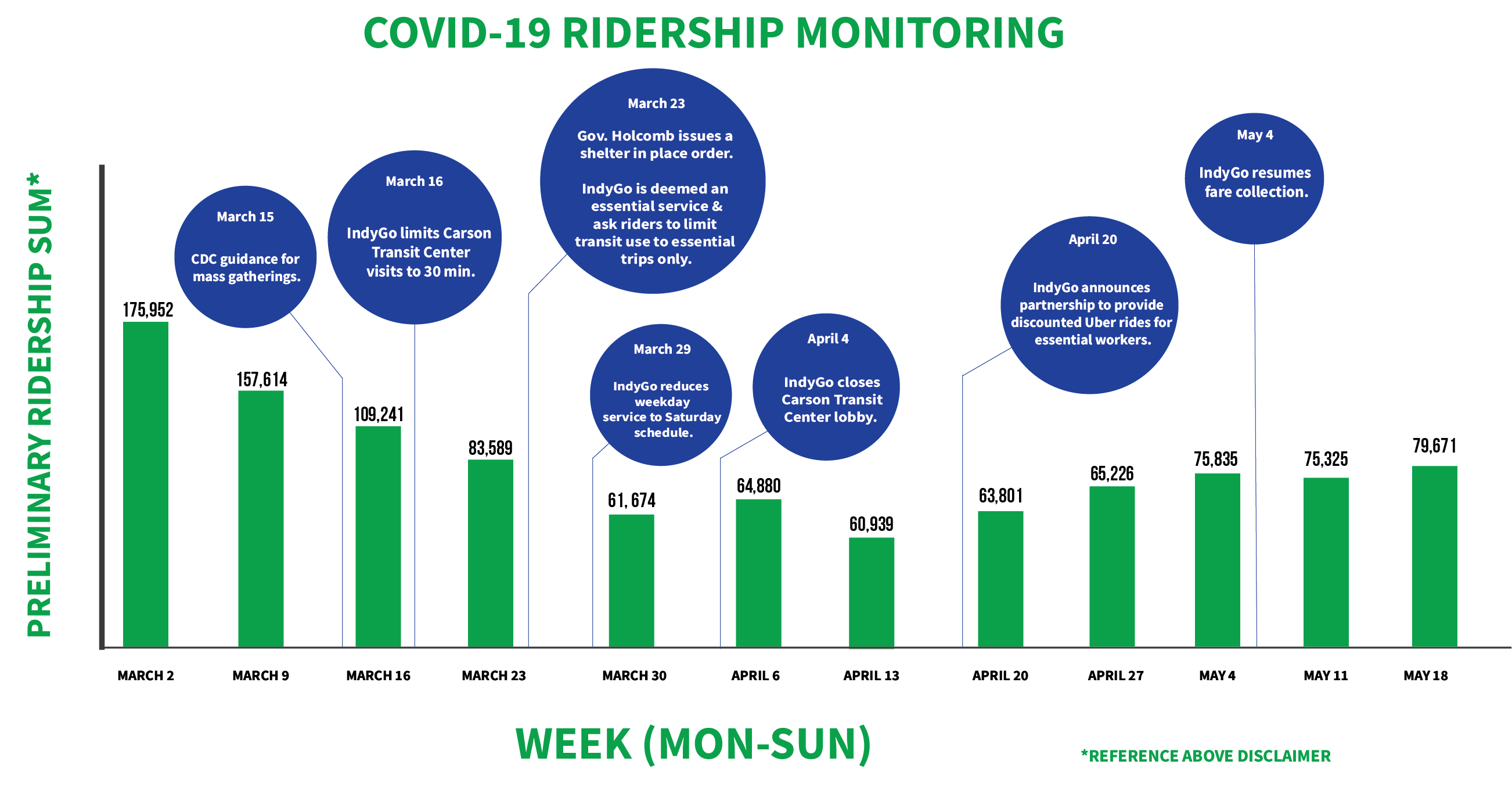 COVID-19 Public Information
IndyGo is closely monitoring the latest developments regarding COVID-19 and following guidance from public health authorities to proactively implement measures that help protect the safety of our employees and passengers. In the interest of protecting our employees' medical privacy, we treat health information in strict confidence. We are unable to release information that may compromise the privacy of any member of our workforce, including specific job titles or any personally identifiable information (PII).
Confirmed cases: 63