Open Door is now IndyGo Access.

Read here about this change and other exciting changes to come.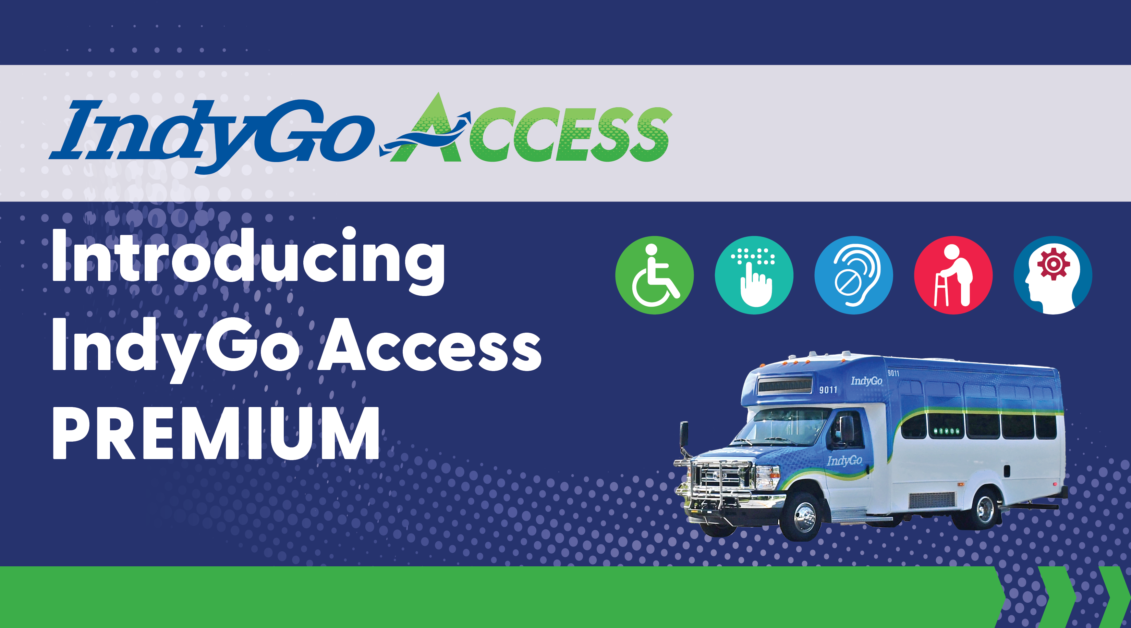 Beginning January 2023: IndyGo Recognizes Two Service Areas
IndyGo is taking a significant step to ensure a more reliable, convenient and enhanced rider experience for paratransit users. Beginning January 2023, the Beyond the ADA Policy takes effect to recognize two service areas. This includes the ADA-mandated area (3/4 of a mile on either side of existing bus routes) and a new area known as IndyGo Access Premium. This premium service offers a new same-day service option as availability allows and premium pricing.
Learn more
Updates
IndyGo is currently transitioning to a new scheduling software. Please be patient as call times may be slightly longer than usual. As part of this new software, if you need to check on the arrival time of a scheduled ride, please press 0 to speak with a Dispatcher.
We're Hiring!

Come discover a work experience where diverse ideas are met with an environment that offers a challenging, stimulating and rewarding career! Transporting people and providing an essential service on a daily basis is what truly moves us at RATP Dev USA.  By joining our team, you will get a bus pass to ride IndyGo, for FREE – as well as great benefits and competitive wages!
For call center representative and retail agent positions, apply HERE.
For all other positions, including drivers, mechanics, utility workers, etc. apply HERE.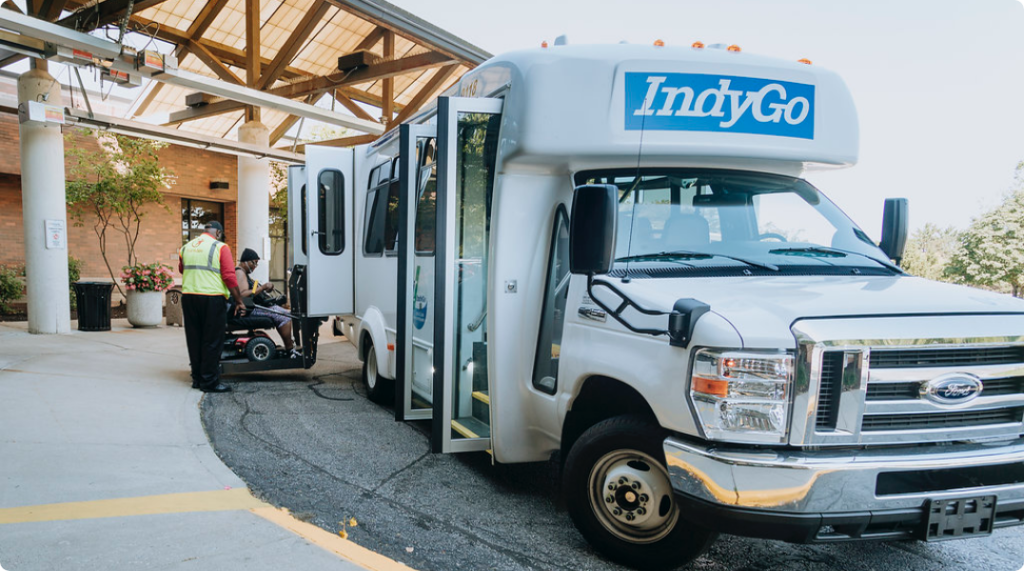 IndyGo's Paratransit Service
IndyGo Access is a reservation-based, shared-ride service. IndyGo Access provides services to those who meet the criteria established by the U.S. Department of Transportation under the Americans with Disabilities Act (ADA) of 1990.
Although federal regulation requires service within only ¾ of a mile, IndyGo Access operates throughout all of Marion County, seven days a week and with the same hours as local service.
It's important to understand that an individual's age, inability to drive a car, or level of personal inconvenience or discomfort are not automatically qualifying factors for eligibility. IndyGo Access eligibility is a pragmatic decision about how best to meet an individual's transportation needs, not a medical authorization.
IndyGo Access service costs riders $3.50 per one-way trip. To use IndyGo Access, you must apply for eligibility.
IndyGo Access Eligibility
If riding fixed route transit service causes periodic or regular undue physical challenge for you, you may qualify for paratransit service. Eligibility is based not only on the presence of a disability or the use of a mobility aid, but on the effect the disability has on the applicant's functional ability to board, ride, and disembark independently from a fully accessible local transit vehicle. The accessibility of the regular local transit service and the environmental and architectural barriers within the service area are also considered.
Learn more about IndyGo's ADA complaint procedures and Title VI & ADA Complaint Form (En Español). For more information regarding IndyGo Access eligibility, please call 317-614-9260.
Applications for IndyGo Access service are available online or via mail by calling our IndyGo Customer Care Center at 317-635-3344. Applications are available in various formats, including Braille, Spanish, and large print. See below for details.
How to Apply
Download the two application forms (see links below) or call our Customer Care Center at 317-635-3344 to have the IndyGo Access application forms mailed to you in an application packet. All IndyGo Access materials are available in various formats, including Braille, Spanish, and large print. Please contact our Customer Care Center at 317-635-3344 for details.
1. Complete the Client Information section below.
The applicant or someone who is familiar with the applicant's abilities must complete this form.
Complete the online form or Download Printable Form
2. Send OR take this form to one of the following professionals who is familiar with you and your condition(s):
Physician or Doctor of Chiropractic
Registered Nurse
Orientation & Mobility Training Specialist
Licensed Social Worker
Download Printable Form (only available as a printable form)
3. The professional may return this form to you or send it directly to IndyGo's assessment office
All forms must be signed and dated to be considered complete.
Email: assessments@indygo.net
Fax: 317-614-9316
Mail to:
IndyGo Access Assessments
1501 West Washington Street
Indianapolis, IN 46222
In-Person Interview
Once the eligibility Assessment Team receives your Personal Information and Medical/Professional Verification forms, they will contact you to schedule an in-person interview. All interviews must be scheduled in advance. If needed, IndyGo can provide transportation on an IndyGo Access shared-ride vehicle to and from the interview location at no cost to you.
At the in-person interview, an Assessment Team Member will review your application and discuss the disability/health condition that affects your functional ability to use IndyGo's local transit service.
Notification of Eligibility
IndyGo will determine your eligibility within 21 days of your in-person interview and notify you of its decision in writing. Once you are approved, you'll receive an IndyGo Access ID and password, and you will be able to call 317-917-8747 to make reservations for IndyGo Access as you need it.
If IndyGo has not made an eligibility determination within 21 days, you will be granted temporary eligibility until a decision is made. If it is then determined you are not eligible for IndyGo's Acess service, you may appeal the decision. Information on the appeal process will be given to you with your notice of ineligibility.
IndyGo Access Hours
IndyGo Acess operates seven days a week, with the same hours as other IndyGo services. IndyGo Access will operate on a Sunday schedule for the following holidays:
New Year's Day
Memorial Day
Independence Day
Labor Day
Thanksgiving Day
Christmas Day
Helpful Information
Currently, IndyGo Access riders ride IndyGo's fixed routes for free with an IndyGo Access ID.
Purchase IndyGo Access Taxi Vouchers for travel with a private taxi company.
Participate in IndyGo's Mobility Advisory Committee (Now Accepting Applications).
For a complete overview of the IndyGo Access service, please read the IndyGo Access Rider Guidelines.
*All IndyGo Access materials are available in various formats, including Braille, Spanish, and large print. Please contact Customer Service at 317-635-3344 for details.