Better Bus Service Keeps Coming!
IndyGo is increasing your transit service by 70 percent! Starting with the opening of the Red Line, frequency and hours of service will be improved. Over the next year, many local routes will also see improvements to hours of service, frequency, and smooth transfer locations.
The shortest distance between two points is a straight line, but a transit system has to serve many people who want to commute to and from different locations. To make the most effective transit improvements with our budget, IndyGo uses public input, ridership data, density and activity mapping, and development patterns to make service changes 3 times a year. Using our board adopted Service Standards, IndyGo invests in high-density ridership routes to move the greatest number of people the most efficiently.
Red, Purple and Blue were designed for you, by you.
IndyGo's creating its new Red, Purple and Blue Lines to help you commute more efficiently, easily and conveniently.
As part of the Marion County Transit Plan, three rapid transit lines were identified to do just that – the Red, Purple, and Blue Lines.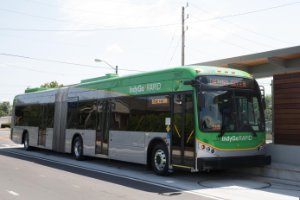 Red Line
The Red Line runs from Broad Ripple through downtown Indy to the University of Indianapolis, connecting several neighborhoods, major employers and cultural institutions with frequent, comfortable rapid transit service.
Continue Reading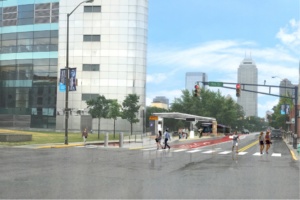 Purple Line
The Purple Line is a much-needed improvement to much-traveled route 39, bringing Bus Rapid Transit to the important Indy-Lawrence connection.
Continue Reading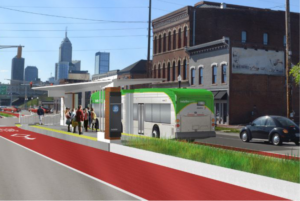 Blue Line
24 miles of rapid transit to and from the airport!
To better connect you to your city and your city to you, all along Washington Street and all the way out to the airport, IndyGo's Blue Line will reinvent one of the most traveled local commuter routes in the IndyGo system.
Continue Reading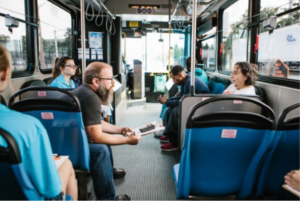 Local Route Improvements
With the implementation of the Marion County Transit Plan, IndyGo is transitioning to a grid-based network, adding two additional rapid transit lines and improving its local bus service.
Continue Reading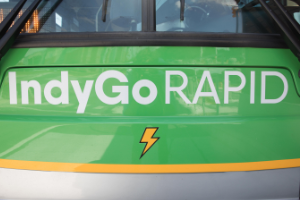 Bus Rapid Transit
Bus Rapid Transit (BRT) provides fast, comfortable, and frequent transit service. Current and future IndyGo riders will enjoy this upgraded experience on the Red, Purple, and Blue Lines.
Continue Reading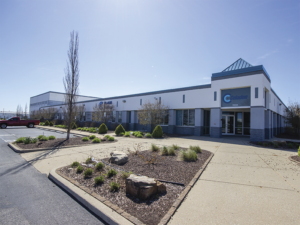 Potential Property Purchases
IndyGo is considering purchasing the following property in order to meet the needs of our growing organization: 9503 E 33rd Street, 2900 Shadeland Avenue, and 6550 E 30th Street.
Continue Reading
Over the next five years, IndyGo will implement the adopted 2019-2025 Capital Plan  to fund and support the increased service frequency, increased service hours, and major redesigns of, and improvements to, our transit system.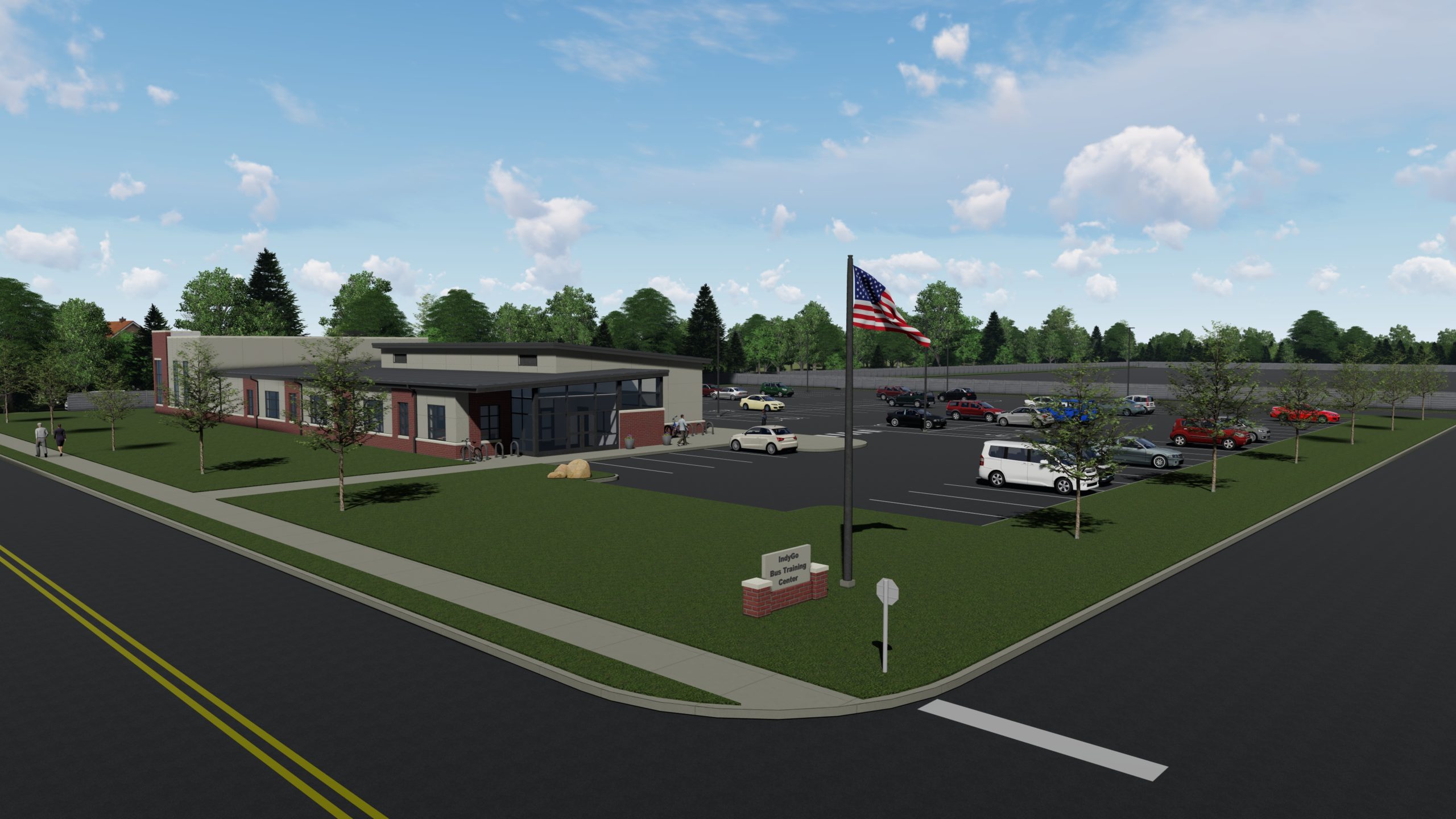 IndyGo will construct a facility on 6 acres in the Riverside neighborhood for regular driver operating training, and to serve as the contingency operations location.  This facility will contain an approximately 6,000 square foot single-story building that will house classroom training and contingency equipment for our IT equipment, as well as a large concrete lot where driver training can occur off street with a complete CDL training course and mock BRT station.  In the event that an emergency renders our facility at 1501 W Washington Street headquarters inaccessible, this site would act as a temporary emergency staging ground, with the training lots used to store buses and fueling and maintenance doing done using mobile trucks and the training classrooms providing space for critical office staff.
IndyGo anticipates the project going to bid in fall 2019.
In 2014, the Indiana General Assembly allowed some Central Indiana counties to dedicate an income tax up to 0.25% for mass transit projects. On November 8, 2016, 59.4% of Marion County voters supported the tax to improve the city's transit system. At the City County Council meeting on January 9, 2017, Proposal 3, a measure to enact a tax dedicated to transit, was introduced by Council president, Maggie Lewis. The full council voted for final adoption on Monday, February 27, 2017. Read the press release for more information.
Learn more about the Marion County Transit Plan.
Why am I hearing so much about the Red Line?
Analysis has shown that the first phase of the Red Line has the best potential for immediate success from a ridership, economic development, and federal funding standpoint. Consider the following, based on projections:
With job connections considered the most vital indicator of ridership and economic development, the first phase of the Red Line will connect to more jobs than any other rapid transit line under consideration, and more than any other corridor in Indiana.
If it were a city, the Red Line corridor would have a daytime population of 250,000+, and that population would be the state's densest and most diverse.
While the Red Line represents 1% of IndyGo's geographical service area, it contains 15% of all daily boardings on the system.
Do competitor cities invest in transit?
Central Indiana regularly competes with regions throughout the U.S. to attract businesses and grow the workforce.  Central Indiana's competitor cities invest in transit, and most have been doing so for years. In addition, many of the cities compared here have passed successful referendums in recent years to provide additional funding and support for their transit systems.
What happens if the referendum fails?
IndyGo still has a system to run, and it will continue to do the best job it can with the resources it has.
Phase I of the Red Line will move forward.
Downtown Transit Center will open.
Real time information will come online.
However, improvements to hours, service, connections, and wait times will be more difficult to make. IndyGo's costs continue to grow nominally as revenues remain fairly flat. Without a dedicated funding source or growth in Marion County's tax base, service cuts will eventually occur
What is the Marion County Transit Plan (MCTP)?
The Marion County Transit Plan begins the process of implementing Indy Connect, the multi-county transit vision for Central Indiana. The Marion County Transit Plan includes significant investment in the local bus network and three rapid transit lines on high ridership routes.
The Marion County Transit Plan includes:
Improvements to the local bus network:

Shorter wait times between buses
Service earlier in the morning and later at night

Monday – Friday: 5 AM – 1 AM
Saturday: 6 AM – 12 AM
Sunday: 6 AM – 10 PM

More efficient transfers
Advanced payment technology and real time arrival information
All routes operating 7 days a week

 3 rapid transit lines:

Blue, Purple, and Phase 2 & 3 Red Transit Lines
Did the public have any input in the plan?
Legislation passed by the State legislature gives some counties in Central Indiana a new funding mechanism for transit by calling a referendum. The plan for Marion County assumes passage of a referendum in 2016 at .25% income tax ($.25 for every $100 earned) with new funding available in 2017.
Hundreds of public meetings to gather input from the public have taken place over the years to help refine what the transit priorities are for Central Indiana.
In 2014, IndyGo Forward helped set a direction for the agency's future investments. Public discussions focused on the trade-off between coverage-based services and ridership-generating services. With comments from IndyGo Forward and Indy Connect, a specific Marion County plan has been developed.
In February of 2016, IndyGo introduced the Marion County Transit Plan to the public. Legal notices, paid radio and internet ads, on-board print and audio announcements, postings at major stops in the downtown area, direct communication to e-newsletter subscribers, social media, website updates, press releases and partner communications gave options to learn about the plan.
In just over 5 weeks, IndyGo hosted or attended 17 meetings to promote the plan and gather feedback. IndyGo collected comments at meetings, online and through the customer service call center. Staff received and reviewed 97 comments.
Learn more about the public involvement process.
How will the plan be funded?
Currently transit service in Central Indiana is funded by a combination of property taxes, federal grants, and rider fares. For any expansion to take place, the region would need to tap into other revenue sources.
Legislation passed by the State legislature in 2014 gives some counties in Central Indiana a new funding mechanism for transit by calling a referendum. The plan for Marion County assumes passage of a referendum in 2016 at .25% income tax with new funding available in 2017.