What is BRT?
Bus Rapid Transit (BRT) is a fixed route mass transit system designed to emulate the service features of light rail, but in a more cost-effective way. BRT provides regular service that's fast, frequent, reliable and comfortable.
Click here to see a higher-quality diagram of a typical BRT station.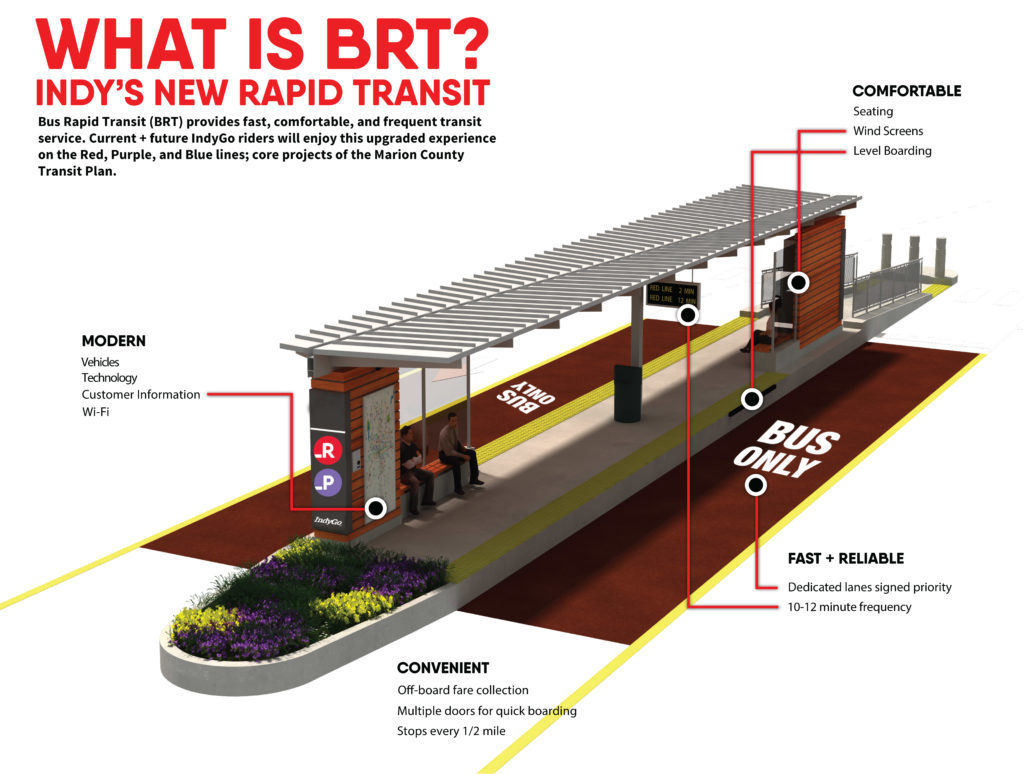 Consistent with the Institute for Transportation & Development Policy's definitions of the essential characteristics for a BRT system, IndyGo's Red, Purple and Blue Lines will incorporate the following features.
Busway Alignment
IndyGo's upcoming Red, Purple and Blue BRT will primarily operate in bus-only lanes to reduce auto-traffic congestion and maintain frequent, on-time service. This dedicated travel lane is only accessible to BRT vehicles, and it ensures buses can move quickly without being impacted by congestion or traffic incidents.
Off-board Fare Collection
Riders will purchase tickets before boarding and present proof of payment upon request, allowing passengers to board at any door and to significantly speed boarding times.
Rapid transit will be the same fare structure as local IndyGo service. MyKey, IndyGo's updated fare system provides off-board fare payment and collection at ticket vending machines and validators at each station. Additionally, riders may use their mobile app or reloadable card to pay and board rapid transit. Cash will still be accepted on board for a 2-hour Transfer Ticket or Day Pass.
Level Boarding
BRT buses "dock" at the same platform height as the stations. This operational design allows for smooth movement between the bus floor and the boarding platform — a feature that's especially helpful for passengers in wheelchairs, those with strollers, those using canes, or those traveling with bicycles.
Transit Signal Prioritization
Employing tools to reduce the time that a bus sets still at an intersection helps keep the bus on schedule in order to provide reliable transit service. These tools include transit signal prioritization (TSP) and roadway alignment designs to minimize vehicular turns across the bus lane when a bus is likely to be present.
Left Turns and U-Turns for Non-Transit Vehicles
To maintain on-time transit service, safety for pedestrians and drivers, and traffic flow, many segments of IndyGo's upcoming Red, Purple and Blue BRT Lines will operate in exclusive or semi-exclusive center-running lanes. This means that the lanes will only be used by BRT busses and emergency vehicles, or may only be used by motor vehicle traffic under certain conditions.
When BRT busses are traveling in bus-only lanes, auto drivers will only be permitted to turn at signalized intersections for their safety. All signalized intersections will include a protected U-Turn phase, and BRT route construction will include the addition of new signals to improve safety and flow. See video below: