Individuals who may be interested in parking their vehicles and riding IndyGo services to their final destinations have some options. Those who wish to "Park-and-Ride" (PnR) may do so at privately-owned parking lots and garages. These lots and garages are positioned along IndyGo's Rapid and Frequent service lines (every 10 to 15 minutes on weekdays).
Since IndyGo does not own or operate public parking facilities, some of the available lots and garages may require a fee or pass. Please contact the lot or garage owner to determine how to properly use the lot and what rules may apply.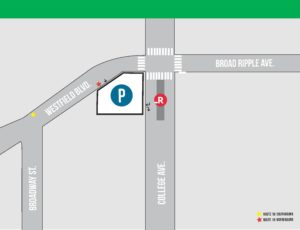 Download the map here. 
Disclaimer
We recommend that park-and-riders stow items out of sight and lock vehicles at all times. The Indianapolis Public Transportation Corporation (IndyGo) does not own or operate any park-and-ride facilities and is not responsible for lost or stolen items, property damage, collision, injury, or any cause whatsoever within or around these facilities.
Contact Us!
Are you a parking lot owner/operator interested in having your lot featured on this webpage? Please fill out the contact form to connect with an IndyGo representative for more information.