INDIANAPOLIS (January 11, 2021) – The Indianapolis Public Transportation Foundation (IPTF) has named Emily Lovison its new executive director. The founding executive director, Roscoe Brown, retired Dec. 31, 2020.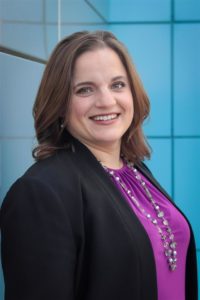 Lovison brings significant experience in fundraising and corporate sponsorships to the role. Her prior experience includes fundraising roles at Conner Prairie, 100 Black Men of Indianapolis, and other local non-profits.
"I am so pleased to bring on Emily to lead the Foundation through these critical developmental years," said Rick Wilson, chair of the IPTF board of directors. "Emily's breadth of knowledge and contacts in the development world will be invaluable as we continue to build and strengthen our relationships in the community."
Lovison earned a bachelor's degree from Indiana University and a master's of public affairs, specializing in non-profit management, from Indiana University-Purdue University Indianapolis.
To date, IPTF has raised more than $96,000 from corporations, foundations, and individuals. IPTF's supporters include AARP Indiana, Central Indiana Community Foundation, Indy Gateway, and Bosma Enterprises.
In addition, the IPTF board of directors named Lacey Everett board vice chair and added Michael Lennox as a board member. Everett has been a member of the Board since August 2020. Everett led the public marketing and communications efforts for Transit Drives Indy and continues to be involved with the implementation of the Marion County Transit Plan. Lennox joined the Board in December 2020, bringing more than 30 years of non-profit management and fundraising experience to the role.
The IPTF's Board of Directors now consists of Rick Wilson (chair), Lacey Everett (vice chair), Adairius Gardner (secretary and treasurer), Gregory Hahn, Danny Crenshaw, Jeff Mittman, Barbara Malone, Erica Williams, and Michael Lennox.
###
About Indianapolis Public Transportation Foundation
The Indianapolis Public Transportation Foundation is dedicated to supporting accessible and inclusive public mobility solutions. Through philanthropic donations, corporate sponsorship, and community partnerships, the Foundation seeks to create mobility options for all people. More at https://www.indygo.net/foundation/.
Media Contact:
Emily Lovison, Executive Director
emily.lovison@indygo.net  | 317-909-6854