IndyGo & Indy DPW Partner for Downtown Super Stops & 2-Way Conversion Project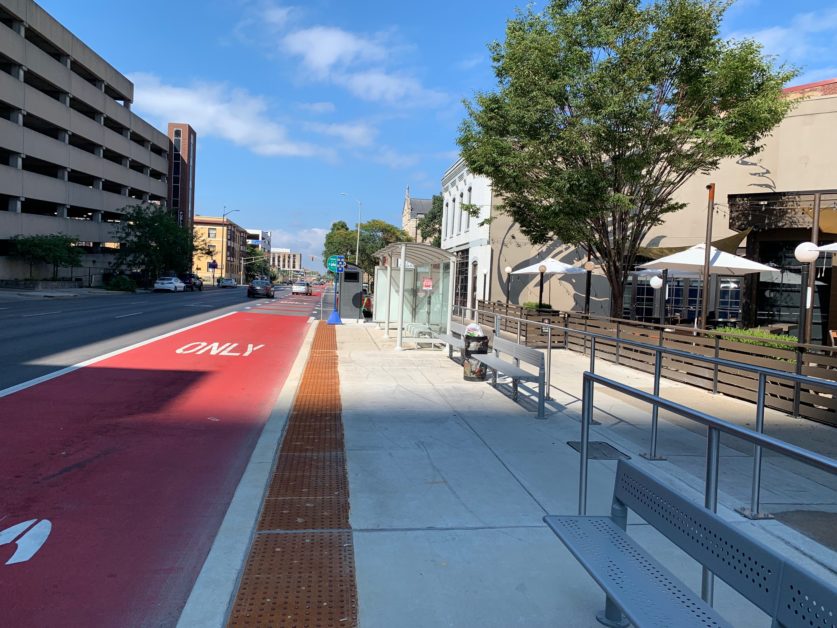 To speed and enhance local service through the downtown area, 
IndyGo will be constructing eight total "Super Stops" in two phases.
Super Stops Phase 1
From 2021 to 2022, IndyGo and the City of Indianapolis' Department of Public Works partnered to implement significant improvements to Delaware Street and Fort Wayne Avenue. The project consisted of a full reconstruction of Delaware Street between Maryland and Vermont streets and resurfacing between Vermont Street and Fort Wayne Avenue, including the removal of the below-ground streetcar tracks. Furthermore, the project implemented the first phase of Super Stops, an improvement to local public transit services in the city center. One Super Stop was constructed at the intersection of New York and Delaware streets and another at the intersection of North and Delaware streets. Super Stops consist of enhanced waiting areas, ticket vending machines, security cameras, real-time signs, near-level boarding and bus shelters.
A Bus-And-Turn (BAT) lane was implemented on the right-hand travel lane along Delaware Street, adjacent to the parking lane. This lane improves travel time and reliability for transit riders. Finally, the project converted Fort Wayne Avenue between Pennsylvania Avenue and Alabama Street from a one-way to a two-way street, in part to allow for additional overlapping local routes to utilize the Super Stop at North Street.
These Super Stops will serve current routes:
New York and Delaware Super Stop: Routes 2, 4, 5, 10, 38 and 19
Delaware and North Super Stop: Routes 2, 4, 5, 10 and 19
Super Stops Phase 2
IndyGo was awarded a Federal Transit Administration (FTA) Bus and Bus Facilities Grant in early 2022 that will go towards constructing the six remaining Super Stops:
Southwest corner of Alabama Street and North Street
Northwest corner of New York and North Street
Fort Wayne Avenue and 9th Street (both directions)
Vermont Street and Capitol Avenue (both directions)
Construction of these Super Stops is anticipated to begin in early 2023 with being open for service in late 2023.
Learn more about the project
Monday, December 7 – 12:00 p.m. Virtual Meeting Recording