At a difficult time in her life, Dilexi Rosario started driving an IndyGo bus. Behind that wheel, she says, she found a place where she feels free. She found new friends, and got to hear their stories, give them advice and just enjoy being with them.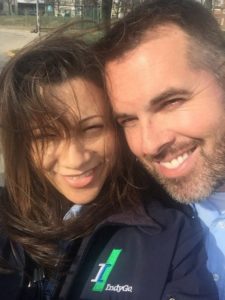 Eventually, she even found new love, and someone who would ask, "¿Te casarías conmigo?" (Will you marry me?)
But, first, the backstory: When she was 13, Dilexi's family moved from the Dominican Republic to New York. The family settled in Queens, where Dilexi eventually married and started to raise her own family, happy to be close to her parents and extended family. Then she got a shock: While on a trip to Indianapolis to visit her then-husband's family, her husband decided their family of three would stay in Indy.
Being so far from her family was hard, but Dilexi tried to make the best of it. She settled into Indy and looked for a job. Having driven school buses in Queens, she decided to apply for a job driving for IndyGo. Twelve years ago, she got hired and found her happy place. Even as her marriage eventually ended, she took joy in her job.
Three years ago, with her divorce final and her kids having grown into young adults, the 40-year-old felt something was missing in her life. "I was looking for true love. Isn't everybody?" she asked.
She didn't have to look far: Considered a "legacy" (his dad retired from IndyGo, and his brother works there now), Sean Cox was working in the garage at IndyGo when Dilexi first noticed him. When his job took him from the garage to a position as a driver, he especially caught her eye. "When he started driving, he wore a different uniform, and that's when I really started paying attention to him," she says.
Things started slowly: Dilexi and Sean, who has worked at IndyGo for 18 years, would say hello when they passed each other getting on and off their shifts. Dilexi wasn't satisfied with the frequency of their connections. She started watching Sean's schedule and making sure they "ran into each other," even as changing schedules made the meetings challenging to arrange. Dilexi wasn't to be thwarted. She was looking for love.
One day, a "chance meeting" really paid off. Dilexi found Sean relaxing in the drivers' room at IndyGo headquarters. She asked him to play pool. He obliged. Trying his best to win, he knew that a requested rematch would mean another chance at getting to know the woman who had captured his attention. Soon, their schedules would gradually begin to match as love was beginning to blossom.
Sean is 44 and never married, so Dilexi wasn't expecting it when, after going with her to a Spanish Mass at St. Patrick's Church with her last fall, he proposed in Spanish. "He doesn't even speak Spanish," said Dilexi. "But he's so sweet and gentle and wanted to touch my heart."