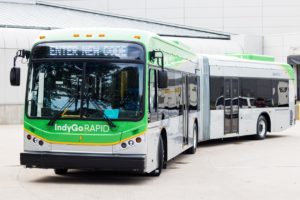 We're in production to operate the nation's first battery-electric bus rapid transit route and becoming a top leader as one of the largest electric transit fleets in the country.
The current bus fleet has been powered by the 1-Megawatt solar panel system on the rooftop of our West Washington headquarters, consisting of 4,300 panels. To get a glance of Telamon-designed rooftop solar array, click here.
Back in 2013, we used a $10 million federal Transportation Investment Generating Economic Recovery (TIGER) grant used to recondition 21 buses with an electric propulsion system. In addition, a $980,000 Low or No Emission Grant was awarded to us last year for the solar expansion project of $1.4 million. This 70/30 split is between federal and local government.
Phase 1 of the Red Line will operate an all-electric bus fleet, in which buses will be charged for 15 minutes at the end of each trip. The new BYD k11 buses have a battery capacity of 642 kWh with 80% usable energy. The older electric buses battery capacity is 311 kWh with 80% usable energy.
We expect to increase our capacity of production of solar panels by approximately 30 percent.
The solar roof has improved operational efficiencies and significantly reduced energy costs. This investment in solar photovoltaics has produced enough power to offset the charging of 13 electric buses, lowering operational costs as well as saved energy and resources.
Even with the addition of 21 electric buses, we have managed to keep purchased electricity fairly flat.
When riding IndyGo fuel is conserved, air pollution decreases, and Indy's carbon footprint is reduced for the entire region, and not just for those who use it. Electric vehicles offer significant benefits, and we're on a mission to make an environmental difference by operating a 100% electric bus fleet by 2035.