INDIANAPOLIS - IndyGo today announced upcoming bus stop balancing efforts throughout the entire IndyGo system, as well as an interactive map tool to help impacted riders find their new stop.
Though IndyGo has postponed the network change planned for June 2020 due to COVID-19 impacts, the agency is moving forward with bus stop balancing to bring the system into alignment with its Service Standards. Bus stop balancing is the process of assessing the spacing between existing bus stops and removing stops that are too close together according to the Service Standards.  This makes bus travel more efficient by decreasing the amount of time a bus spends slowed or stopped at a bus stop.
IndyGo's Service Standards recommend that, on average, bus stops along frequent routes should be placed about a quarter of a mile apart, and that bus stops along less frequent routes should be placed between four and six times per mile. As part of bus stop balancing, stops may be removed or moved to a new location, and new bus stops may be added.
Many factors were considered by IndyGo staff when making bus stop balancing decisions, including existing pedestrian infrastructure and accessibility, opportunities to transfer to other routes, and land use and zoning, as well as average daily ridership. Over sixty percent of impacted stops that are planned to be removed had fewer than two boardings per day, on average.
Riders will begin seeing the stickers pictured below on affected bus stops on or after August 31. Stop removals, as well as the installation of new stops, will begin on or after September 14. Even after a bus stop has been stickered, bus operators will continue to pick up and drop off passengers until the bus stop sign has been physically removed. There will be no service removals or route changes associated with this bus stop balancing effort.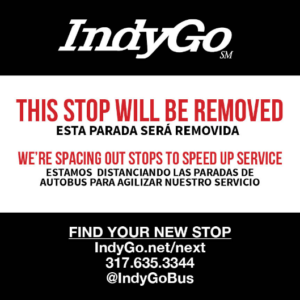 While crews are in the process of removing stops, stop locations may not be accurately reflected in rider tools such as the MyStop app.
Riders can use the interactive map tool on  indygo.net/stopchanges/ to see which stops will be affected and where their new bus stop will be, if their current stop is affected. Riders may also call IndyGo's Customer Service at 317-635-3344 for assistance.
###
About IndyGo
IndyGo, the Indianapolis Public Transportation Corporation, is committed to connecting the community to economic and cultural opportunities through safe, reliable, and accessible mobility experiences. The IndyGo Red Line is the nation's first fully-battery electric bus rapid transit line, besides California, and provides 10-15 minute service to an average of 7,000 trips per day through the heart of Indianapolis. To learn more, visit our website, follow us on Twitter @IndyGoBus, or call 317.635.3344.
Media Contact Info
Faith Chadwick, Public Information Officer
fchadwick@indygo.net | 317-559-4938