Transportation veteran pledges innovation, growth, and fiscal accountability
INDIANAPOLIS – The IndyGo Board of Directors announced today its selection of Inez Evans as the organization's new president and CEO. Evans currently serves as Chief Operating Officer for the Santa Clara Valley Transportation Authority (VTA) where she is responsible for leading 1,600 employees, maintaining nearly 700 vehicles and ensuring exceptional customer service for the VTA's 43 million customers.
Evans will replace current IndyGo President and CEO Michael Terry in mid- to late August. She brings more than 25 years of experience to IndyGo and has led several successful transportation initiatives across the country, including installation of bus rapid transit service (BRT) and master planning for 100% fleet electrification. IndyGo Board Chair Juan Gonzalez says Evans is an ideal fit to lead the organization during a period of considerable growth.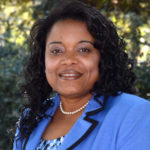 "Ms. Evans demonstrated herself as a talented transportation leader and fully understands the unique opportunity to guide one of the most exciting periods in IndyGo history," said Gonzalez. "IndyGo's Red Line – the nation's first bus rapid transit (BRT) using fully electric vehicles – is a generational milestone that will become the spine of a more efficient, accessible, modernized transit network for Indianapolis and central Indiana. We anticipate Inez will make an immediate positive impact and look forward to her successful tenure with IndyGo."
In conducting its national search, IndyGo sought a proven leader and strong communicator, someone with the ability to build and nurture relationships, bring communities together and affect organizational change. Evans was recruited to Santa Clara VTA as Chief of Staff in 2014, only to be quickly promoted one year later to COO. During her time at VTA, she has been responsible for overseeing several departments outside of operations including risk management, human resources, procurement, board office, scheduling and service development, community relations, marketing, payroll, and information technology. The organization has an annual operating budget of $365 million and an annual capital budget of $300 million.
"IndyGo is embarking on a dynamic endeavor, essentially doubling the size of its bus system while introducing cutting-edge technology and a 100% electric-powered fleet," said Evans. "Indianapolis is receiving national recognition for its industry leading innovations. I can't imagine an opportunity with greater potential, and I intend to maximize every ounce of it."
During her 25-year career, Evans has worked with a diverse group of transportation organizations and companies in various cities across the country. Prior to the Santa Clara VTA, Evans served as Chief Operations Officer for the Southwest Ohio Regional Transit Authority (SORTA) and director of transportation for the Metropolitan Atlanta Regional Transportation Authority (MARTA). Before that, she held positions with Austin-based Star Tran, San Jose-based Veolia Transportation and MV Transportation in Fairfield, Calif.
Gonzalez says Evans' breadth of experience stood out and believes it will serve her well as IndyGo shapes the future of public transportation in central Indiana.
"This position is critical to the development of Indianapolis as a world-class city," said Gonzalez. "Inez possesses a diverse professional background with the ability to offer and weigh several different perspectives. IndyGo has ambitious plans, and we believe Inez is the right person to lead our organization toward an exciting future."
Evans has an MBA in Management from Western International University and a Bachelor of Science in Business Management from the University of Phoenix.
###
About IndyGo
IndyGo, the Indianapolis Public Transportation Corporation, is committed to connecting the community to economic and cultural opportunities through safe, reliable, and accessible mobility experiences. IndyGo's Marion County Transit Plan will bring an increase in IndyGo services with extended hours and shorter wait times starting this year. To learn more, visit our website, follow us on Twitter @IndyGoBus, or call 317.635.3344.