INDIANAPOLIS — Not only does IndyGo strive to boldly move Indianapolis forward and make positive impacts on Marion County residents, but it also works to positively impact its Providence Cristo Rey High School (PCRHS) interns. 
PCRHS is a college and career preparatory high school that requires all its students to partake in its Corporate Work Study Program, which contains more than 100 corporate work study partners, one of which is IndyGo. The program exposes students to a diverse range of entry-level clerical duties and offers a way for them to learn a multitude of professional and soft skills that are transferable no matter what careers they pursue. This is IndyGo's third year participating in the program. 
This semester, IndyGo celebrated receiving three interns, including new intern Jerrion Rose and returning interns Humberto Rangel and Jamijah Lumpkins. Rangel is working with our Connected Vehicle Technology team, Rose with the Public Affairs team and Lumpkins with the Customer Care and Mobility Solutions teams. We met with each of the interns to learn more about their interests and what they've learned so far while at the agency. 
Humberto Rangel – Connected Vehicle Technology
Rangel is a senior at PCRHS and has been interning at IndyGo for three years. Most of his time is dedicated to fixing Coach Operator headsets, which the drivers use to communicate with supervisors and dispatchers, and entails replacing old or worn-down pieces and reassembling the equipment. He also spends time taking inventory of all general hardware and mobile equipment. His team plans to expose him to many other systems and tools as the internship progresses. 
Rangel said IndyGo has taught him better time management and stronger communication skills. He enjoys the hands-on approach with the assignments he's given and finds them to be interesting.  
When asked what keeps him coming back to the agency, his answer was the people.  
"At first, coming into the internship here, I was shy," Rangel said. "It was a new experience. But as I got to know the team here, I realized I can talk to them about anything."   
Outside of the internship, Rangel wrestles for PCRHS and works on cars. 
Jamijah Lumpkins – Customer Care and Mobility Solutions
Lumpkins is a junior at PCRHS, and like Rangel, has interned at IndyGo for three years. Her primary focus during her time at the agency is going through returned mail to seek out correct addresses for riders as we alert them of expiration dates.  She also calls back riders who left comments on IndyGo's website. Last year, she learned how to use the software Ecolane and Excel spreadsheets to search and enter monetary data for riders' fare as well.  
Lumpkins said this internship has allowed her to develop her communication skills, particularly with her interactions over the phone.  
"This internship has helped me feel more comfortable reaching out to riders and talking on the phone in general," Lumpkins said. "It's not as scary now, and I actually enjoy reaching out to those who use IndyGo's services."  
She said her experience has also taught her more about what it's like being in a work environment. 
"It feels good working with the people at IndyGo, and I feel like I'm learning a lot about the real world," Lumpkins said. 
Eventually, Lumpkins hopes to become a travel nurse so she can help others while getting the chance to explore the world for herself.  
Basketball, cheerleading and being outside are all activities Lumpkins enjoys in her free time.  
Jerrion Rose – Public Affairs
Rose is a sophomore at PCRHS. He began his internship with the agency in September. With this being his first time interning at IndyGo, he's worked on a variety of new projects.  
The most recent task required him to create a presentation detailing each member of the Public Affairs team, sharing what they do at the agency and why their job is important. His favorite assignments have involved capturing footage for social media videos. 
Also like Lumpkins and Rangel, Rose said he's already learned about the importance of communication and how it could benefit him in his future career path as an engineer.  
"I've learned communication is important because it has many benefits, including building relationships and bringing opportunities for each party involved," Rose said. "Another thing Public Affairs has shown me is the importance of incorporating accessibility in all messaging for those who need it. I hadn't realized how much it could help." 
Rose said he sees immense value in communication, and his internship, because it puts him in contact with others he might not meet if he weren't a part of the program. This, he said, could open doors for him in the future.   
Before he was an IndyGo intern, Rose was no stranger to riding the bus. He said he rode with his friends downtown this summer, visiting places like the YMCA and the mall. He also had friends and family growing up who worked for the agency. 
In his free time, Rose enjoys playing baseball, reading, watching television and playing video games.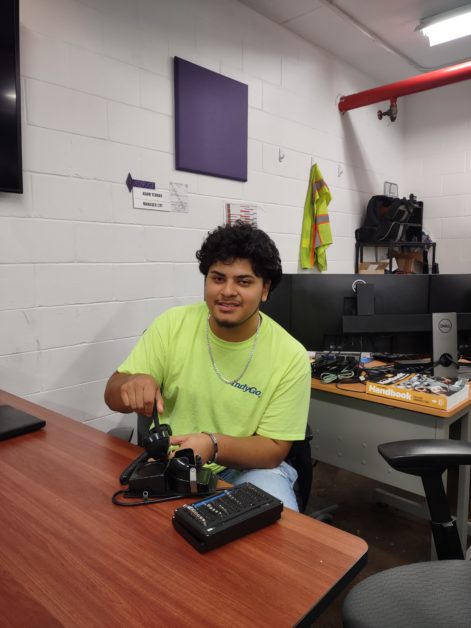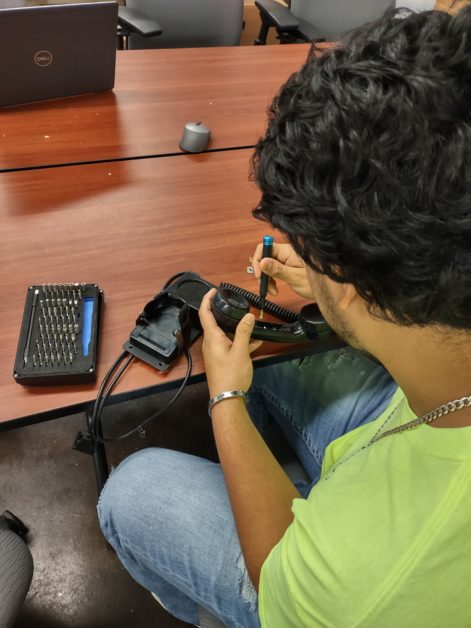 (Rangel fixing a headset)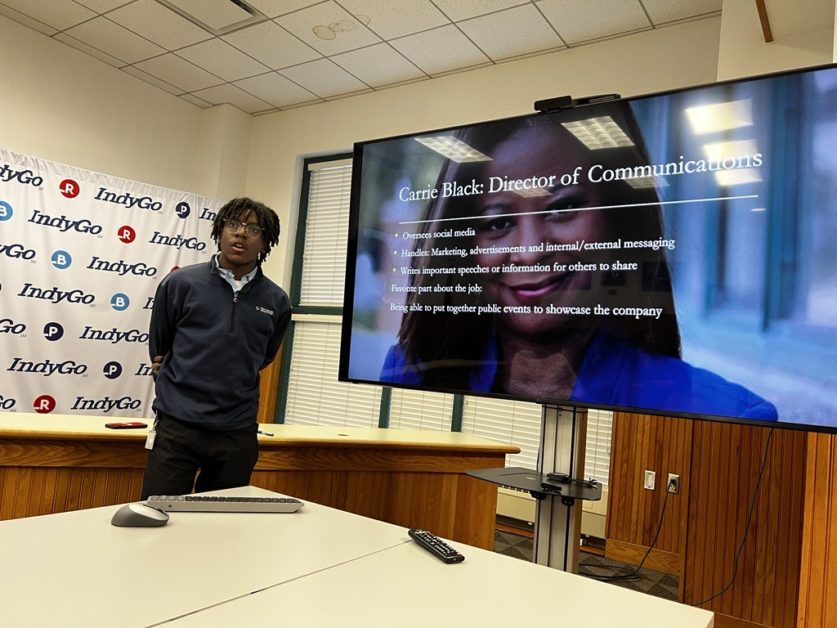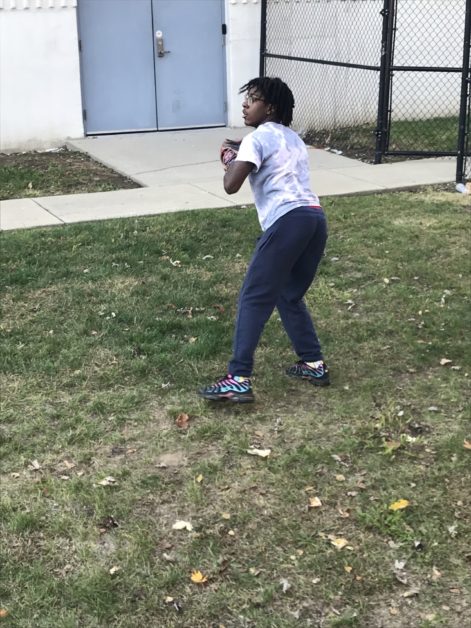 (Rose giving his presentation and playing baseball)
###