AM
6:20am
6:50am
7:20am
7:50am
8:20am
8:50am
9:20am
9:50am
10:20am
10:50am
11:20am
11:50am
PM
12:20pm
12:50pm
1:20pm
1:50pm
2:20pm
2:50pm
3:20pm
3:50pm
4:20pm
4:50pm
5:20pm
5:50pm
6:20pm
6:50pm
7:20pm
8:20pm
9:20pm
AM
5:33am
6:03am
6:28am
6:58am
7:28am
7:58am
8:28am
8:58am
9:29am
9:59am
10:29am
10:59am
11:29am
11:59am
PM
12:29pm
12:59pm
1:29pm
1:59pm
2:29pm
2:59pm
3:29pm
3:59pm
4:29pm
4:59pm
5:29pm
5:59pm
6:28pm
6:58pm
7:28pm
8:28pm
9:28pm
AM
5:44am
6:14am
6:39am
7:09am
7:39am
8:09am
8:39am
9:11am
9:42am
10:12am
10:42am
11:12am
11:42am
PM
12:12pm
12:42pm
1:12pm
1:42pm
2:12pm
2:42pm
3:12pm
3:42pm
4:12pm
4:42pm
5:12pm
5:42pm
6:12pm
6:41pm
7:11pm
7:41pm
8:41pm
9:41pm
AM
5:48am
6:18am
6:43am
7:13am
7:43am
8:13am
8:43am
9:15am
9:46am
10:16am
10:46am
11:16am
11:46am
PM
12:16pm
12:46pm
1:16pm
1:46pm
2:16pm
2:46pm
3:16pm
3:46pm
4:16pm
4:46pm
5:16pm
5:46pm
6:16pm
6:45pm
7:15pm
7:45pm
8:45pm
9:45pm
AM
6:04am
6:34am
6:59am
7:29am
7:59am
8:29am
8:59am
9:33am
10:04am
10:34am
11:04am
11:34am
PM
12:04pm
12:34pm
1:04pm
1:34pm
2:04pm
2:34pm
3:04pm
3:34pm
4:04pm
4:34pm
5:04pm
5:34pm
6:04pm
6:32pm
7:01pm
7:31pm
8:01pm
9:01pm
10:01pm
AM
6:20am
7:20am
8:20am
9:20am
10:20am
11:20am
PM
12:20pm
1:20pm
2:20pm
3:20pm
4:20pm
5:20pm
6:20pm
7:20pm
8:20pm
9:20pm
AM
6:28am
7:28am
8:28am
9:28am
10:28am
11:29am
PM
12:29pm
1:29pm
2:29pm
3:29pm
4:29pm
5:29pm
6:28pm
7:28pm
8:28pm
9:28pm
AM
6:39am
7:39am
8:39am
9:39am
10:39am
11:41am
PM
12:41pm
1:41pm
2:41pm
3:41pm
4:41pm
5:41pm
6:39pm
7:39pm
8:39pm
9:39pm
AM
6:43am
7:43am
8:43am
9:43am
10:43am
11:45am
PM
12:45pm
1:45pm
2:45pm
3:45pm
4:45pm
5:45pm
6:43pm
7:43pm
8:43pm
9:43pm
AM
6:59am
7:59am
8:59am
9:59am
10:59am
PM
12:03pm
1:03pm
2:03pm
3:03pm
4:03pm
5:03pm
6:03pm
6:59pm
7:59pm
8:59pm
9:59pm
AM
7:20am
8:20am
9:20am
10:20am
11:20am
PM
12:20pm
1:20pm
2:20pm
3:20pm
4:20pm
5:20pm
6:20pm
7:20pm
8:20pm
AM
7:28am
8:28am
9:28am
10:28am
11:29am
PM
12:29pm
1:29pm
2:29pm
3:29pm
4:29pm
5:29pm
6:28pm
7:28pm
8:28pm
AM
7:39am
8:39am
9:39am
10:39am
11:41am
PM
12:41pm
1:41pm
2:41pm
3:41pm
4:41pm
5:41pm
6:39pm
7:39pm
8:39pm
AM
7:43am
8:43am
9:43am
10:43am
11:45am
PM
12:45pm
1:45pm
2:45pm
3:45pm
4:45pm
5:45pm
6:43pm
7:43pm
8:43pm
AM
7:59am
8:59am
9:59am
10:59am
PM
12:03pm
1:03pm
2:03pm
3:03pm
4:03pm
5:03pm
6:03pm
6:59pm
7:59pm
8:59pm
Disclaimer: The above map reflects updates that will go into effect Feb. 12, 2023.
Route 87 Serves:
Meijer at E. Washington
Walmart at E. Washington
Washington Square Mall
IMPD Training Academy
Warren Township Government Center
John Marshall High School
Quick Trip Planner
Track My Bus
Already have your trip planned? Use our new Track My Bus feature to follow your bus in real time.
Go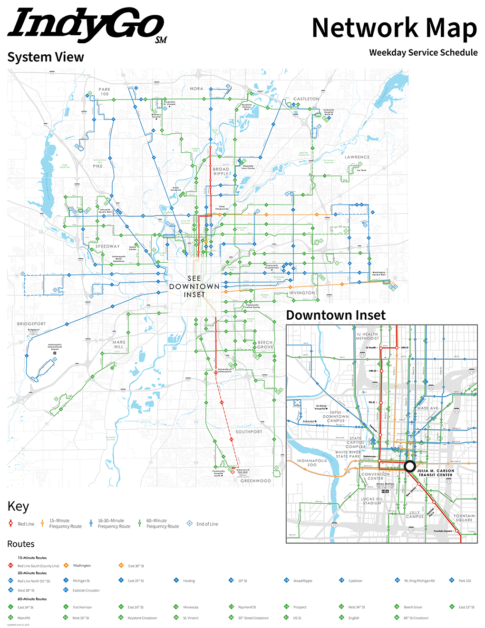 Full System Map
Download the full system map to view all IndyGo bus routes in a PDF.
Download PDF
All Route Maps
Click the button below to download all of the individual IndyGo route maps.
Download Maps