AM
550a
630a
711a
742a
802a
822a
842a
902a
922a
942a
1002a
1022a
1042a
1102a
1122a
1142a
PM
1202p
1222p
1242p
102p
122p
142p
202p
222p
242p
302p
322p
342p
402p
422p
442p
502p
522p
542p
602p
622p
642p
702p
722p
742p
802p
823p
842p
902p
922p
942p
1002p
1037p
1117p
1157p
1234a
AM
600a
640a
721a
752a
812a
832a
852a
912a
932a
952a
1012a
1032a
1052a
1112a
1132a
1152a
PM
1212p
1232p
1252p
112p
132p
152p
212p
232p
252p
312p
332p
352p
412p
432p
452p
512p
532p
552p
611p
631p
651p
711p
731p
751p
811p
832p
851p
911p
931p
951p
1011p
1046p
1126p
1206a
1243a
AM
635a
705a
735a
805a
835a
905a
935a
1005a
1037a
1107a
1137a
1207p
PM
1237p
107p
137p
207p
237p
307p
337p
407p
437p
507p
537p
607p
637p
707p
735p
805p
835p
905p
933p
1003p
1033p
1103p
1133p
1203a
1233a
AM
645a
715a
745a
815a
845a
915a
945a
1015a
1047a
1117a
1147a
PM
1217p
1247p
117p
147p
217p
247p
317p
347p
417p
447p
517p
547p
616p
646p
716p
744p
814p
844p
914p
942p
1012p
1042p
1112p
1142p
1212a
1242a
AM
734a
804a
834a
904a
934a
1005a
1037a
1107a
1137a
PM
1207p
1237p
107p
137p
207p
237p
307p
337p
407p
437p
507p
537p
607p
637p
706p
734p
804p
834p
904p
934p
AM
743a
813a
843a
914a
944a
1015a
1047a
1117a
1147a
PM
1217p
1247p
117p
147p
217p
247p
317p
347p
417p
447p
517p
547p
616p
646p
715p
743p
813p
843p
913p
943p
AM
617a
657a
717a
737a
757a
817a
837a
857a
917a
937a
957a
1017a
1037a
1057a
1117a
1137a
1157a
PM
1217p
1237p
1257p
117p
137p
157p
217p
237p
257p
317p
337p
357p
417p
437p
457p
517p
537p
557p
618p
639p
700p
720p
740p
800p
821p
841p
901p
921p
953p
1033p
1113p
1153p
AM
627a
707a
727a
747a
807a
827a
847a
907a
927a
947a
1007a
1027a
1047a
1107a
1127a
1147a
PM
1207p
1227p
1247p
107p
127p
147p
207p
227p
247p
307p
327p
347p
407p
427p
447p
507p
527p
547p
607p
627p
648p
709p
729p
749p
809p
830p
850p
910p
930p
1002p
1042p
1122p
1202a
AM
629a
659a
729a
759a
829a
859a
928a
957a
1027a
1057a
1127a
1157a
PM
1227p
1257p
127p
157p
227p
257p
327p
357p
427p
457p
527p
557p
629p
700p
730p
800p
831p
901p
932p
1003p
1033p
1103p
1133p
1203a
AM
639a
709a
739a
809a
839a
909a
938a
1007a
1037a
1107a
1137a
PM
1207p
1237p
107p
137p
207p
237p
307p
337p
407p
437p
507p
537p
607p
638p
709p
739p
809p
840p
910p
941p
1012p
1042p
1112p
1142p
1212a
AM
701a
731a
801a
831a
900a
929a
958a
1028a
1058a
1128a
1158a
PM
1228p
1258p
128p
158p
228p
258p
328p
358p
428p
458p
528p
558p
630p
701p
731p
801p
831p
901p
AM
710a
740a
810a
840a
910a
939a
1008a
1038a
1108a
1138a
PM
1208p
1238p
108p
138p
208p
238p
308p
338p
408p
438p
508p
538p
608p
639p
710p
740p
810p
840p
910p
Effective Friday, December 20: The Red Line (Route 90) northern extension will no longer travel to 96th Street. College and Lake Nora (before 91st Street) will be the last northbound stop. College & Lake Nora southbound will be the first stop on the northern extension where riders may board to travel south. This routing change will allow Red Line rapid transit vehicles to charge on-route at a temporary charging location.
Certain Red Line (Route 90) rapid transit vehicles continue past 66th St. and University stations. Check the vehicle's headsign to determine if the bus will continue into local service past these two stations. On transit planning apps, riders will see the northern extension called Route 901 and the southern extension called Route 902. However, no transfer is required when traveling on a Red Line rapid transit vehicle continuing into local service.
Service between University and 66th Street will continue to be planned for every 10 minutes on weekdays, with service north of 66th Street and south of University every 20 minutes.
Quick Trip Planner
Track My Bus
Already have your trip planned? Use our new Track My Bus feature to follow your bus in real time.
Go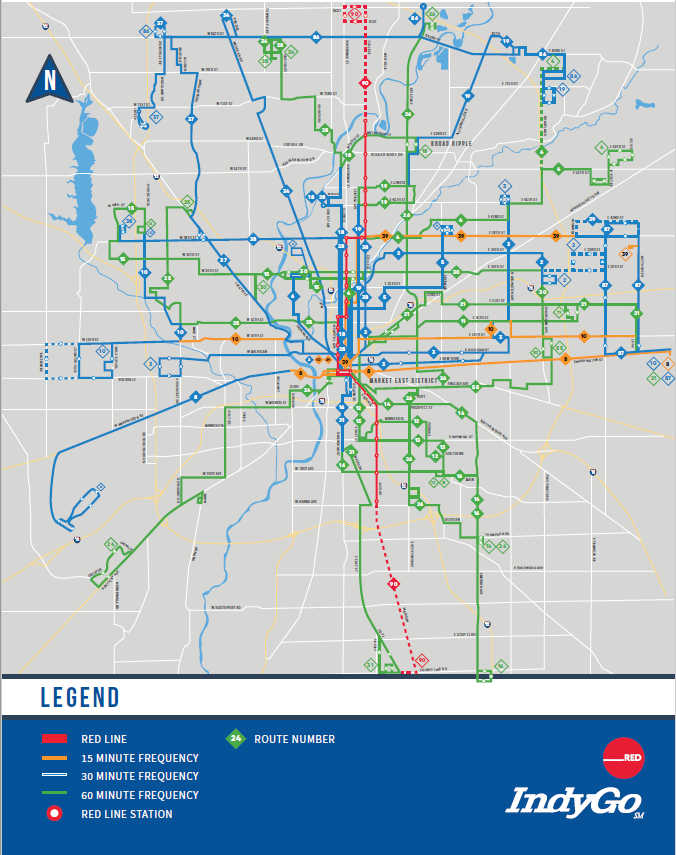 Full System Map
Download the full system map to view all IndyGo bus routes in a PDF.
Download PDF
All Route Maps
Click the button below to download all of the individual IndyGo route maps.
Download Maps