AM
505a
545a
624a
642a
702a
722a
742a
801a
821a
841a
901a
921a
941a
1001a
1021a
1041a
1101a
1121a
1141a
PM
1201p
1221p
1241p
101p
121p
141p
201p
221p
241p
301p
321p
341p
401p
421p
441p
501p
521p
541p
601p
621p
641p
702p
722p
742p
802p
822p
842p
902p
922p
953p
1033p
1113p
1153p
AM
520a
600a
639a
657a
717a
737a
757a
817a
837a
857a
917a
937a
957a
1017a
1037a
1057a
1117a
1137a
1157a
PM
1217p
1237p
1257p
117p
137p
157p
217p
237p
257p
317p
337p
357p
417p
437p
457p
517p
537p
557p
617p
637p
657p
717p
737p
757p
817p
837p
857p
917p
937p
1008p
1048p
1128p
1208a
AM
613a
643a
713a
743a
813a
843a
913a
942a
1011a
1041a
1111a
1141a
PM
1211p
1241p
111p
141p
211p
241p
311p
341p
411p
441p
511p
541p
611p
641p
713p
743p
813p
843p
915p
945p
1015p
1045p
1115p
1145p
1215a
AM
628a
658a
728a
758a
828a
858a
928a
957a
1027a
1057a
1127a
1157a
PM
1227p
1257p
127p
157p
227p
257p
327p
357p
427p
457p
527p
557p
627p
657p
728p
758p
828p
858p
929p
959p
1029p
1059p
1129p
1159p
1229a
AM
713a
743a
813a
843a
912a
941a
1011a
1041a
1111a
1141a
PM
1211p
1241p
111p
141p
211p
241p
311p
341p
411p
441p
511p
541p
612p
642p
713p
743p
813p
843p
913p
AM
728a
758a
828a
858a
928a
957a
1027a
1057a
1127a
1157a
PM
1227p
1257p
127p
157p
227p
257p
327p
357p
427p
457p
527p
557p
627p
657p
728p
758p
828p
858p
928p
AM
557a
638a
713a
733a
753a
813a
833a
853a
913a
933a
953a
1013a
1033a
1053a
1113a
1133a
1153a
PM
1213p
1233p
1253p
113p
133p
153p
213p
233p
253p
313p
333p
353p
413p
433p
453p
513p
533p
553p
613p
633p
653p
712p
732p
752p
812p
832p
852p
912p
932p
952p
1012p
1032p
1112p
1152p
1214a
AM
613a
654a
729a
749a
810a
830a
850a
910a
930a
950a
1010a
1030a
1050a
1110a
1130a
1150a
PM
1210p
1230p
1250p
110p
130p
150p
210p
230p
250p
310p
330p
350p
410p
430p
450p
510p
530p
550p
610p
630p
650p
709p
728p
748p
808p
828p
848p
908p
928p
948p
1008p
1028p
1048p
1128p
1208a
1230a
AM
617a
647a
717a
747a
817a
847a
917a
947a
1018a
1048a
1118a
1148a
PM
1218p
1248p
118p
148p
218p
248p
318p
348p
418p
448p
518p
548p
618p
648p
717p
747p
817p
847p
917p
947p
1016p
1046p
1116p
1146p
1216a
1246a
AM
632a
702a
732a
802a
832a
902a
932a
1002a
1034a
1104a
1134a
PM
1204p
1234p
104p
134p
204p
234p
304p
334p
404p
434p
504p
534p
604p
634p
704p
732p
802p
832p
902p
931p
1001p
1030p
1100p
1130p
1200a
1230a
100a
AM
717a
747a
817a
847a
917a
947a
1018a
1048a
1118a
1148a
PM
1218p
1248p
118p
148p
218p
248p
318p
348p
418p
448p
518p
548p
618p
648p
717p
747p
817p
847p
917p
AM
732a
802a
832a
902a
933a
1003a
1034a
1104a
1134a
PM
1204p
1234p
104p
134p
204p
234p
304p
334p
404p
434p
504p
534p
604p
633p
703p
732p
802p
832p
902p
932p
Passengers traveling on the Red Line (Route 90) north to 96th or south to Greenwood will no longer need to transfer to a local route bus. Every other Red Line bus will continue south of UIndy to the Greenwood Park Mall along Madison Avenue.
Passengers should take note of the head signs to know whether the Red Line buses will continue south to Greenwood. If a transfer to another bus is needed, riders will make the transfer from the Red Line station.
Service between University and 66th Street will continue to be planned for every 10 minutes on weekdays, with service south of University being every 20 minutes.
This route was last updated on October 2019.
Quick Trip Planner
Track My Bus
Already have your trip planned? Use our new Track My Bus feature to follow your bus in real time.
Go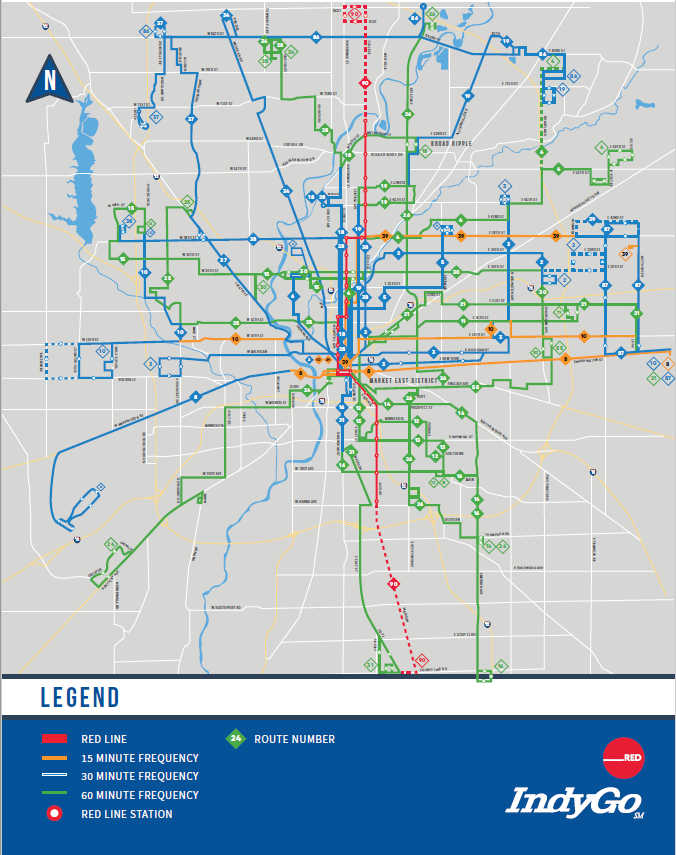 Full System Map
Download the full system map to view all IndyGo bus routes in a PDF.
Download PDF
All Route Maps
Click the button below to download all of the individual IndyGo route maps.
Download Maps