AM
4:57am
5:22am
5:52am
6:22am
6:53am
7:24am
7:54am
8:21am
8:53am
9:23am
9:53am
10:23am
10:53am
11:23am
11:53am
PM
12:23pm
12:50pm
1:23pm
1:53pm
2:23pm
2:53pm
3:23pm
3:54pm
4:24pm
4:51pm
5:21pm
5:53pm
6:22pm
6:52pm
7:22pm
7:52pm
8:22pm
8:51pm
9:21pm
9:51pm
10:21pm
10:51pm
11:21pm
11:51pm
12:21am
AM
5:13am
5:38am
6:08am
6:38am
7:09am
7:40am
8:10am
8:37am
9:10am
9:40am
10:10am
10:40am
11:10am
11:40am
PM
12:10pm
12:40pm
1:07pm
1:40pm
2:10pm
2:40pm
3:10pm
3:40pm
4:11pm
4:41pm
5:08pm
5:38pm
6:10pm
6:38pm
7:08pm
7:38pm
8:08pm
8:38pm
9:07pm
9:37pm
10:07pm
10:37pm
11:07pm
11:37pm
12:07am
12:37am
AM
6:04am
6:34am
7:04am
7:34am
8:04am
8:34am
9:04am
9:34am
10:01am
10:33am
11:03am
11:33am
PM
12:03pm
12:33pm
1:03pm
1:33pm
2:03pm
2:33pm
3:03pm
3:33pm
4:03pm
4:31pm
5:01pm
5:33pm
6:03pm
6:33pm
7:04pm
7:34pm
8:04pm
8:34pm
9:04pm
9:34pm
10:04pm
10:34pm
11:04pm
11:34pm
12:04am
AM
6:20am
6:50am
7:20am
7:50am
8:20am
8:50am
9:20am
9:50am
10:18am
10:50am
11:20am
11:50am
PM
12:20pm
12:50pm
1:20pm
1:50pm
2:20pm
2:50pm
3:20pm
3:50pm
4:20pm
4:48pm
5:18pm
5:50pm
6:20pm
6:50pm
7:20pm
7:50pm
8:20pm
8:50pm
9:20pm
9:50pm
10:20pm
10:50pm
11:20pm
11:50pm
12:20am
AM
7:05am
7:35am
8:05am
8:35am
9:05am
9:34am
10:04am
10:34am
11:04am
11:34am
PM
12:04pm
12:34pm
1:04pm
1:34pm
2:04pm
2:34pm
3:04pm
3:34pm
4:04pm
4:34pm
5:04pm
5:34pm
6:04pm
6:34pm
7:05pm
7:35pm
8:05pm
8:35pm
9:05pm
AM
7:20am
7:50am
8:20am
8:50am
9:20am
9:50am
10:20am
10:50am
11:20am
11:50am
PM
12:20pm
12:50pm
1:20pm
1:50pm
2:20pm
2:50pm
3:20pm
3:50pm
4:20pm
4:50pm
5:20pm
5:50pm
6:20pm
6:50pm
7:20pm
7:50pm
8:20pm
8:50pm
9:20pm
AM
5:38am
6:08am
6:38am
7:09am
7:40am
8:10am
8:40am
9:10am
9:40am
10:10am
10:40am
11:10am
11:40am
PM
12:10pm
12:40pm
1:10pm
1:40pm
2:10pm
2:40pm
3:10pm
3:40pm
4:11pm
4:41pm
5:12pm
5:42pm
6:10pm
6:38pm
7:08pm
7:38pm
8:08pm
8:38pm
9:07pm
9:37pm
10:07pm
10:37pm
11:07pm
11:37pm
12:07am
12:37am
AM
5:56am
6:26am
6:56am
7:27am
7:58am
8:28am
8:58am
9:29am
9:59am
10:29am
10:59am
11:29am
11:59am
PM
12:29pm
12:59pm
1:29pm
1:59pm
2:29pm
2:59pm
3:29pm
3:59pm
4:30pm
5:00pm
5:31pm
6:01pm
6:28pm
6:56pm
7:26pm
7:56pm
8:26pm
8:56pm
9:25pm
9:55pm
10:25pm
10:55pm
11:25pm
11:55pm
12:25am
12:55am
AM
6:20am
6:50am
7:20am
7:50am
8:20am
8:50am
9:20am
9:50am
10:22am
10:50am
11:20am
11:50am
PM
12:20pm
12:50pm
1:20pm
1:50pm
2:20pm
2:50pm
3:20pm
3:50pm
4:20pm
4:52pm
5:22pm
5:50pm
6:20pm
6:50pm
7:20pm
7:50pm
8:20pm
8:50pm
9:20pm
9:50pm
10:20pm
10:50pm
11:20pm
11:50pm
12:20am
AM
6:38am
7:08am
7:38am
8:08am
8:38am
9:08am
9:38am
10:08am
10:41am
11:09am
11:39am
PM
12:09pm
12:39pm
1:09pm
1:39pm
2:09pm
2:39pm
3:09pm
3:39pm
4:09pm
4:39pm
5:11pm
5:41pm
6:09pm
6:39pm
7:09pm
7:39pm
8:09pm
8:38pm
9:08pm
9:38pm
10:08pm
10:38pm
11:08pm
11:38pm
12:08am
12:38am
AM
7:20am
7:50am
8:20am
8:50am
9:20am
9:50am
10:20am
10:50am
11:20am
11:50am
PM
12:20pm
12:50pm
1:20pm
1:50pm
2:20pm
2:50pm
3:20pm
3:50pm
4:20pm
4:50pm
5:20pm
5:50pm
6:20pm
6:50pm
7:20pm
7:50pm
8:20pm
8:50pm
9:20pm
AM
7:37am
8:07am
8:37am
9:07am
9:37am
10:07am
10:38am
11:08am
11:38am
PM
12:08pm
12:38pm
1:08pm
1:38pm
2:08pm
2:38pm
3:08pm
3:38pm
4:08pm
4:38pm
5:08pm
5:38pm
6:08pm
6:38pm
7:08pm
7:37pm
8:07pm
8:37pm
9:07pm
9:37pm
Disclaimer: Route 902 to County Line Road (Greenwood Park Mall) will temporarily operate as a separate route from Route 90, also known as the Red Line. Red Line passengers will need to transfer to a temporary bus stop that will be located adjacent to University Station for all trips to and from Greenwood Park Mall on Route 902. This change is being made to improve on-time performance for the Red Line, which has been impacted recently by significant construction detours along Route 902. 
Disclaimer: The map and images below reflect changes to this route that will begin starting Sunday, June 11.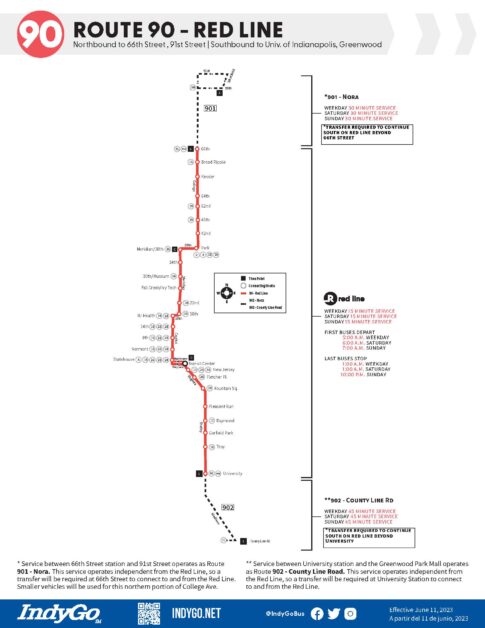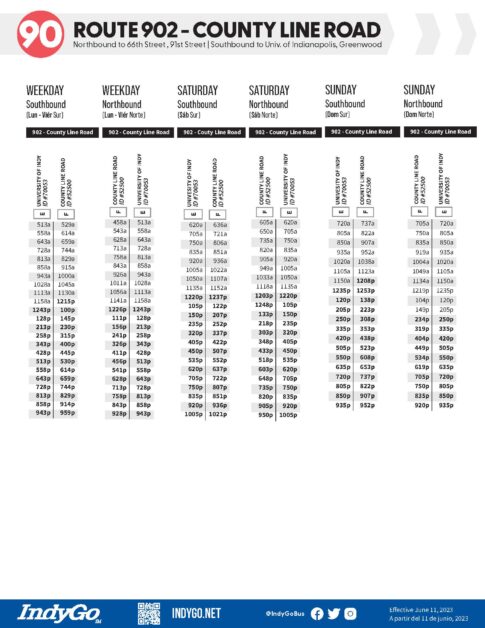 Quick Trip Planner
Track My Bus
Already have your trip planned? Use our new Track My Bus feature to follow your bus in real time.
Go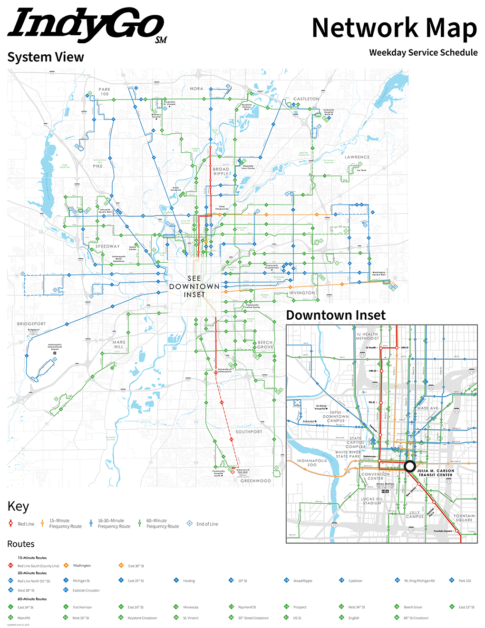 Full System Map
Download the full system map to view all IndyGo bus routes in a PDF.
Download PDF
All Route Maps
Click the button below to download all of the individual IndyGo route maps.
Download Maps