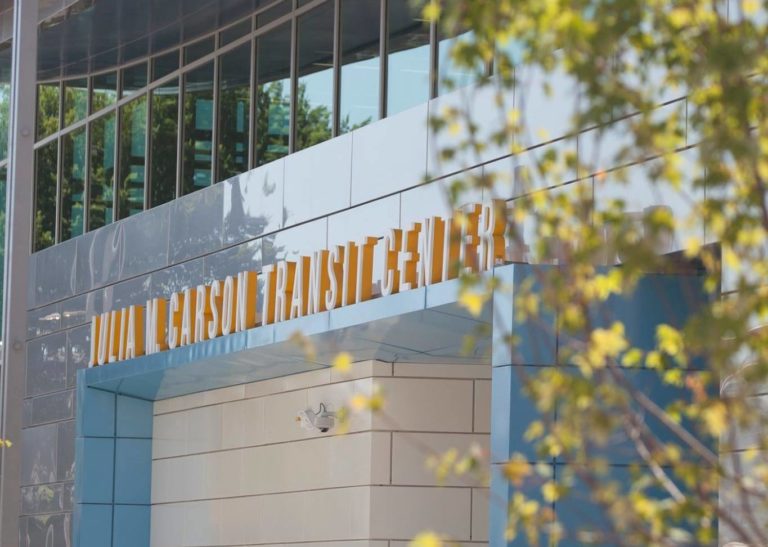 Transit is Essential in Indianapolis
Indy has a lot to be excited about at a time when so many do not have the same outlook. The momentum surrounding IndyGo's Bus Rapid Transit (BRT) routes is building, and buzz is louder than ever as Indianapolis continues to make history.  
Connecting essential workers. Uplifting a community with infrastructure improvements. Improving public transit reliability. Driving economic development in the hundreds of millions of dollars. IndyGo is beyond transit.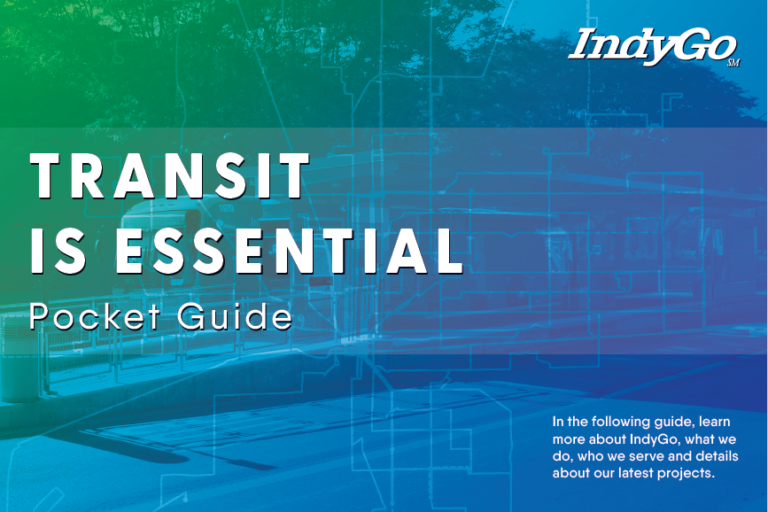 Transit is Essential Pocket Guide
Learn more about IndyGo, what we do, who we serve and details about our latest projects.
IndyGo and Its Community
IndyGo showing it's a trailblazer in the industry and true community partner with Marion County is why more than a dozen stakeholders and community partners were eager to share why transit, IndyGo and BRT are critically important to the work they do, the people they serve and the opportunities they provide to boldly move our city forward.
The Purple Line will run 15 miles and connect Indianapolis to Lawrence, meaning faster, more efficient travel. Beyond this enhanced service, the Purple Line also means critical upgrades to infrastructure in communities that need it most along the 38th Street corridor. That means new or improved sidewalks, ADA curb ramps, multi-use pathways, storm sewer separation and more. The total project will cost $188 million with more than half the budget covering these infrastructure improvements.
Click the button below to learn more about the multitude of benefits coming with IndyGo's upcoming BRT route, the Purple Line.
Purple Line
---
Please take a brief moment to watch the linked videos below and hear why community leaders think it's important to keep the momentum on transit expansion moving forward.
Dr. Jeff Butts
Superintendent of Metropolitan School District of Wayne Township 
"Our children, our parents and many of our employees rely upon transit to help them to get to and from school, to and from the grocery store, to the doctor's office, to any place they need to go because they lack a reliable vehicle." 
Gretchen Gutman
Vice President of Public Policy at Cook Group
"Cook Medical is very excited about being in the community. Being two blocks away from a Purple Line stop meant that individuals from the neighborhood could think of us as being a viable employer."
Mario Rodriguez
Executive Director of the Indianapolis Airport Authority
"You have a wonderful airport that has enough capacity. You get around the world within one bound, but you can't get to the airport. There's no connectivity, and we have to make sure that our world-class airport, in our world-class city, has the ability to connect to each other and connect in a world-class way."
Jeremy Stephenson
Managing Partner at 1820 Ventures
"To be able to be on a Bus Rapid Transit Line that could take you to or through downtown to the airport to Irvington up to Broad Ripple in a way that is all connected we think it's important because we think the type of development that we're looking to do at Elevator Hill is a future-oriented type of development. And so, BRT and transit in general, and the ability to connect people is critically important."