IndyGo wants to keep helping you get around.
This year, we are improving bus routes, working on shared mobility projects, and continuing to gather information from you.
Public transit is one of several possible solutions that should work together. Shared mobility means you can move using several transportation options. These options are safe and reliable, and are shared by others- so you don't have to own, maintain, and rely on your own personal vehicle – saving money, stress, and energy.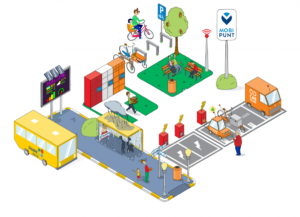 IndyGo is:
Investing in Mobility Hubs

IndyGo is working with the Boner Center and Englewood CDC, to build the city's first mobility hubs on the east side.
Mobility hubs are places in your neighborhood where you can start and end a trip on a bike, safe walk, using IndyGo, a car share, or other shared vehicles.
Testing the Idea: Mid-Town-Get-Around

Later this year, the MLK Center will launch a pilot project to improve transportation for the neighborhood. IndyGo is helping by providing the vehicles, and program support.
Payment Integration.

IndyGo is working with partners to develop a way for you to pay for other transportation options from one place, the MyKey app.
We need your continued input. Please fill out the survey today to help us plan and prioritize projects.