IndyGo, Growing Places Indy partner up to provide affordable produce for third year
INDIANAPOLIS - Food in Transit, a farm stand presented by Growing Places Indy and IndyGo, returns for its third year on July 1, 2020. The stand will run every Wednesday from 2:00 to 5:00 p.m. from July through October.
The Food in Transit program provides fresh, affordable, and locally-grown produce to current and future transit riders. Produce is provided by Growing Places Indy and the farm stand is made possible by the Department of Metropolitan Development's Community Block Development Grant (CDBG) funding through the U.S. Department of Housing and Urban Development.
"Growing Places Indy is thrilled to be a part of this project for the third year in a row," says Growing Places Indy Executive Director, Victoria Beaty. "It's more important than ever to provide our local community with fresh produce. The Food in Transit program makes shopping local convenient and affordable."
Food in Transit is available every Wednesday between July 1 and the end of October, from 2:00 to 5:00 p.m. at the Julia M. Carson Transit Center. In the event of inclement weather, the farm stand will be held inside the Carson Transit Center, with the capacity limited to promote social distancing.
The farm stand will provide a wide variety of fresh, local vegetables each week, with affordably priced bundles of $5 or $10. The vegetables will be pre-bundled and wrapped for safety and convenience. Cash, SNAP, EBT, credit and debit are all accepted forms of payment, and Growing Places Indy offers a 50% discount on orders up to $10 for SNAP recipients.
"We're excited to provide affordable, locally grown produce at the Carson Transit Center through this partnership," says Lesley Gordon, IndyGo Director of Public Affairs and Partnerships. "We know that many of our riders use IndyGo to get to the grocery store and access food, and we are pleased to offer fresh food in a convenient location. We are grateful to the City of Indianapolis and Growing Places Indy for partnering with us and making this project possible."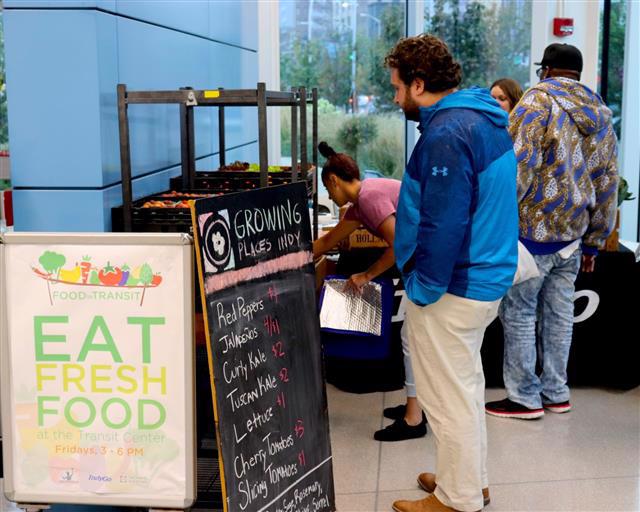 About IndyGo

IndyGo, the Indianapolis Public Transportation Corporation, is committed to connecting the community to economic and cultural opportunities through safe, reliable, and accessible mobility experiences. The IndyGo Red Line is the nation's first fully-battery electric bus rapid transit line, besides California, and provides 10-15 minute service to an average of 7,000 trips per day through the heart of Indianapolis. To learn more, visit our website, follow us on Twitter @IndyGoBus, or call 317.635.3344.

About City of Indianapolis, Department of Metropolitan Development (DMD)
DMD's Community Investments team administers grants made available by the U.S. Department of Housing and Urban Development and the Housing Trust Fund to low-to-moderate income neighborhoods in Indianapolis. These grants help to preserve and develop affordable housing, attract economic development opportunities, and support human services initiatives that serve low-to-moderate income populations. Visit https://www.indy.gov/activity/community-development-grants for more information.
About Growing Places Indy
Growing Places Indy is a nonprofit organization, empowering individuals to cultivate personal, family, and community wellness through urban agriculture, access to fresh local food, and mind-body education. For more information about Growing Places Indy, please visit www.growingplacesindy.com, or visit them on Facebook, Instagram, and Twitter.