INDIANAPOLIS – The Red Line saw more than 8,000 riders on opening day, Sunday, Sept. 1. This morning, members of the public gathered to celebrate this historic investment in public transportation on the Indiana Statehouse lawn.
Remarks began at 8 a.m. and highlighted the years of collaboration, advocacy, planning, and public outreach that made the project possible; the value that IndyGo's improved transportation brings to the community; and the future the Red Line will allow for the city of Indianapolis.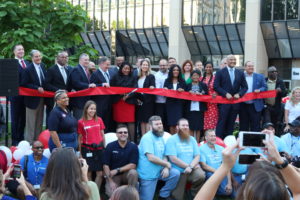 "The Red Line is a step in the future of transportation here in Indianapolis, just as the transit center was and just as our continued improvements to reliability and frequency will be. The future requires more to invest in, support, and for folks to ride transit. And we are committed to that here at IndyGo." – Inez Evans, President and CEO, IndyGo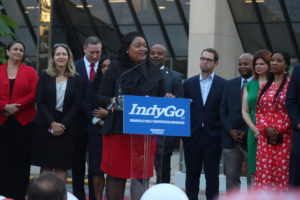 "There is no shortage of Individuals to thank. Bus rapid transit makes Indianapolis a more environmentally conscious city. The Red Line, Purple Line and the Blue Line, when they arrive, make Indianapolis a more equitable city." – City-County Council President Vop Osili
"Transit is truly an investment in our future. These improvements will impact future generations to come." – Congressman Andre D. Carson
"This is an incredibly exciting day for the City of Indianapolis. Dependable and convenient public transit is not a luxury, it is a necessity." – Mayor Joe Hogsett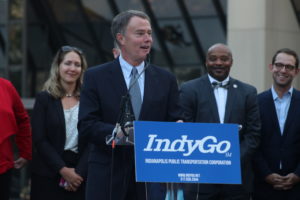 "Economic mobility is the key to creating an Indianapolis where all are afforded the opportunity to succeed, and the Red Line reduces a significant barrier to many of our citizens who have not been able to fully access our economy." – Indy Chamber Chief Policy Officer Mark Fisher
The event featured a live jazz group, coffee from Tinker Coffee, General American Donuts and Circle City Kombucha.
The Red Line is free for the full month of September, and IndyGo's entire system will be free until Sept. 14.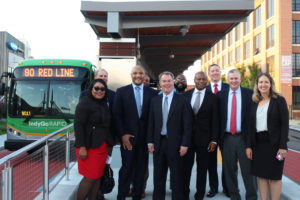 ###
About IndyGo
IndyGo, the Indianapolis Public Transportation Corporation, is committed to connecting the community to economic and cultural opportunities through safe, reliable, and accessible mobility experiences. IndyGo's Marion County Transit Plan will bring an increase in IndyGo services with extended hours and shorter wait times starting this year. To learn more, visit our website, follow us on Twitter @IndyGoBus, or call 317.635.3344.