INDIANAPOLIS —Two IndyGo employees were honored at the 29th Annual ROSE Awards on Wednesday, March 11 at the Indiana Roof Ballroom.
Baba Diop, a professional coach operator, and Charlie Watkins, a body shop mechanic, were both nominated for awards. Diop was selected as a winner of a ROSE Award.
The ROSE Awards celebrate excellence in the service industry, and employees whose dedication to their community, coworkers, and organizations goes beyond what's in their job description.
Baba Diop, a professional coach operator with ten years of experience, was honored for his commitment to his riders—even in his time off. Diop noticed a frequent rider struggling with a broken wheelchair, and provided the rider with a new one. The rider and Diop formed a friendship, and Diop even went on to assist the rider in finding a new home.  
Charlie Watkins, a body shop mechanic, has worked at IndyGo for eight years. Watkins, known by his coworkers as a "go-getter," is always looking for new solutions in the garage. He is responsible for building battery carts, engine stands, and more. Watkins' dedication to innovation demonstrates his determination to help IndyGo serve its riders as efficiently as possible.
"Both Baba and Charlie demonstrate what's best about IndyGo: dedication to providing the best possible service to our riders," said Aaron Vogel, Chief Operating Officer of IndyGo. "Whether that means going above and beyond for a rider on the bus, or thinking strategically about managing our resources to ensure service is effective, these two are great examples of strong customer service."
Diop and Watkins' contributions to IndyGo are among the many notable acts of customer service IndyGo's employees make every day. Wednesday, March 18 is Transit Employee Appreciation Day. Riders are encouraged to tell IndyGo drivers and other staff why they value their contributions to Indianapolis.
"Providing reliable service is essential to our riders, and we couldn't do it without our team of hardworking staff," said Inez Evans, President & CEO of IndyGo. "It's so important to recognize the commitment and dedication of our employees, so please take a moment to thank the folks that drive our city this upcoming Transit Employee Appreciation Day."
More information about all of the ROSE Award nominees can be found at roseawards.com.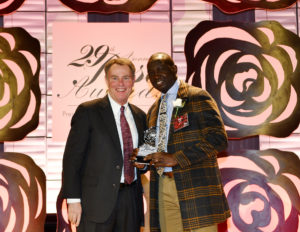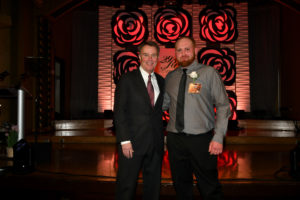 ###
About IndyGo
IndyGo, the Indianapolis Public Transportation Corporation, is committed to connecting the community to economic and cultural opportunities through safe, reliable, and accessible mobility experiences. The IndyGo Red Line is the nation's first fully-battery electric bus rapid transit line, besides California, and provides 10-15 minute service to an average of 7,000 trips per day through the heart of Indianapolis. To learn more, visit our website, follow us on Twitter @IndyGoBus, or call 317.635.3344.