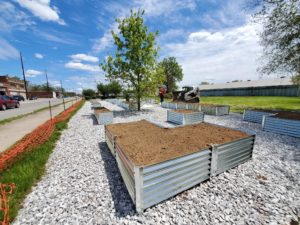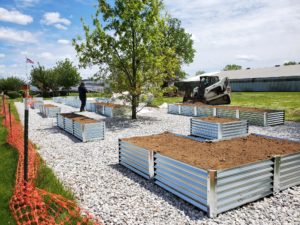 INDIANAPOLIS (May 14, 2021) — IndyGo announced its newest partnership with the Westside Community Development Corporation, a not-for-profit supporting community development, to address food insecurities at the near westside of Indianapolis. 
Many residents from neighboring communities such as Haughville, Hawthorne, Stringtown and We Care have suffered from access to food during the global pandemic. This new partnership is an opportunity for the community to learn gardening skills and increase the amount of fresh food within the area. 
"At IndyGo, it's critical to be involved with our community, especially those on the Westside that are facing challenges with accessing food," said Inez Evans, President and CEO of IndyGo. "Our mission at IndyGo is to provide safe, reliable and accessible transportation to those in the Indianapolis community. This partnership aligns perfectly with our why. We're thrilled to see how this partnership will unfold and how this community can better access fresh food within their neighborhood."  
Volunteers from IndyGo and Westside Community Development Corporation will relocate the near west community garden at IndyGo's new Mobility Care Center on Saturday from 9 a.m. to 12 p.m. The Mobility Care Center is located at 2425 West Michigan Street. 
"IndyGo has been a great partner and support in this process," said Ben Rose, Communications Director of Westside Community Development Corporation. "Even before purchasing the property, IndyGo reached out to see how they could continue to potentially offer space for the gardens. With IndyGo's  support and upgrade to the physical space, we've been able to focus more on community outreach." 
The Near West Community Gardens was founded in 2020 with a grant from the Neighborhood Food Champions program and financial support from the Westside CDC and land donation from Kinney Group. Robert Negron of Indy Convergence attended workshops on food sustainability. NWCG utilizes around 20 volunteers and raised over 200 pounds of food, including pumpkins, kale, tomatoes, peppers, squash, onions, cucumbers, and melons. Most of the food was dispersed amongst volunteers, with next year's aspirations to identify area food banks to donate to. 
### 
About IndyGo 
IndyGo, the Indianapolis Public Transportation Corporation, is committed to connecting the community to economic and cultural opportunities through safe, reliable, and accessible mobility experiences. The IndyGo Red Line is the nation's longest fully-battery electric bus rapid transit line, besides California, and provides 15 minute service through the heart of Indianapolis. To learn more, visit our website, follow us on Twitter @IndyGoBus, or call 317.635.3344.  
Media Contact
Lesley Gordon, Vice President of Communications and Marketing
317-559-4952 | Lesley.Gordon@indygo.net