INDIANAPOLIS – IndyGo would like to remind riders and motorists of ongoing construction related to Red Line enhancements and safety upgrades to station platforms and the pavement along the dedicated bus lanes, including the bus pads at each station. These upgrades are a regular part of maintenance, yet IndyGo is also taking advantage of the opportunity to conduct more extensive repairs and apply enhancements that are part of the Purple Line design.  
Beginning on or after Tuesday, July 12, rub rail installation will begin on the Broad Ripple Red Line station platform. This is a protective barrier that allows the bus to pull up more snugly along the platform for level boarding without damaging the side of the bus. This work will last up to two days and have no effect on traffic configurations. However, riders will need to walk to the next nearest station at 66th Street or Kessler Avenue.  
Construction on Red Line stations along Capitol Avenue is expected to begin Tuesday, July 19, with station closures and temporary stops going into effect Sunday, July 17. In this phase of the project, no changes to vehicular traffic configurations will be required. However, riders can expect delays and detours in their commutes through late September. During the closures, IndyGo will strive to provide temporary bus stops in locations where it is operationally safe to do so. (*See Capitol Avenue Detour Map below.)  
The following Capitol Avenue Red Line stations will experience construction enhancements over the next couple months:  
Statehouse Station 

 

Vermont Station

 

9th Street Station

 

14th Street Station

 

IU Health Station

 
Visit the website here for specific, anticipated construction details for each station.  
As a reminder, IndyGo is making these significant improvements to the Red Line to provide additional long-term stability and protect the significant investment made in the system's infrastructure. Construction is expected to last through summer 2023. 
For more information about the project, and to sign up to receive weekly construction updates, visit IndyGo's website here. 
(Capitol Avenue Detour Map)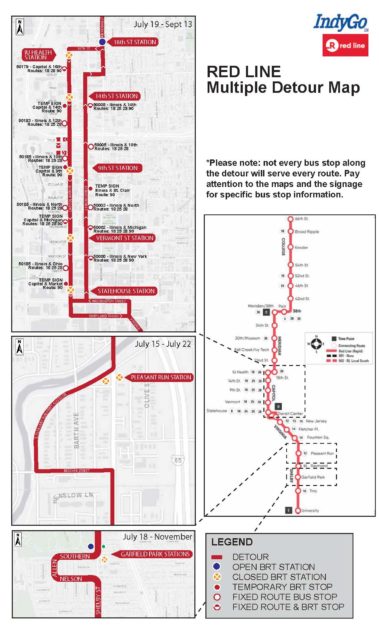 Click here to see a larger version of the map.
###