Former HNTB Planning Group Director, Jennifer Pyrz will lead all capital plan projects
INDIANAPOLIS — IndyGo welcomes Jennifer Pyrz, AVP, PE, as the new Chief Development Officer and VP of Infrastructure, Strategy, and Innovation. In this role, Pyrz will lead and guide all IndyGo capital plan projects in this new decade.
"We are extremely grateful to have Jennifer as a new leader at IndyGo. Her talent, dedication, and direction in leading the construction management team for the Red Line not only showed how knowledgeable and dedicated she is to the city but to our organization," said Inez Evans, IndyGo CEO. "We are thrilled to have a leader like Jennifer to continue to build on our successes."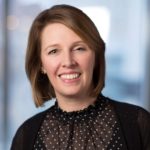 With more than 20 years of experience in the transportation consulting industry, she will spearhead the strategic plan to expand IndyGo's Marion County Transit Plan and will initiate planning of the upcoming BRT lines. Additionally, Pyrz will cover all real estate development, including project administration and construction management for IndyGo.
Her professional career also includes rich experience in overseeing a diverse range of projects in environmental studies, traffic forecasting, transit alternatives analyses, transportation plans, and architectural design. Pyrz is HNTB's former Planning Group Director for the Indianapolis Office, managing their traffic engineering, planning, and environmental practices. She also currently serves as HNTB's Client Service Leader for the City of Indianapolis and a member of its Diversity Committee.
"Together with the City of Indianapolis, IndyGo is moving our region in the right direction with innovative growth initiatives. There is tremendous opportunity to support our community's economic development through improved mobility and access. I look forward to continuing IndyGo's great work in achieving this vision," said Pyrz.
Pyrz received M.S. and B.S. degrees in civil engineering from Purdue University. She is a past president of the Indiana chapter of the Institute of Transportation Engineers, one of the founding members and current Advisory Board member of the Indianapolis chapter of Women's Transportation Seminar, and a fellow of the Eno Center for Transportation.
###
About IndyGo
IndyGo, the Indianapolis Public Transportation Corporation, is committed to connecting the community to economic and cultural opportunities through safe, reliable, and accessible mobility experiences. The IndyGo Red Line is the nation's first fully-battery electric bus rapid transit line, besides California, and provides 10-15 minute service to an average of 7,000 trips per day through the heart of Indianapolis. To learn more, visit our website, follow us on Twitter @IndyGoBus, or call 317.635.3344.