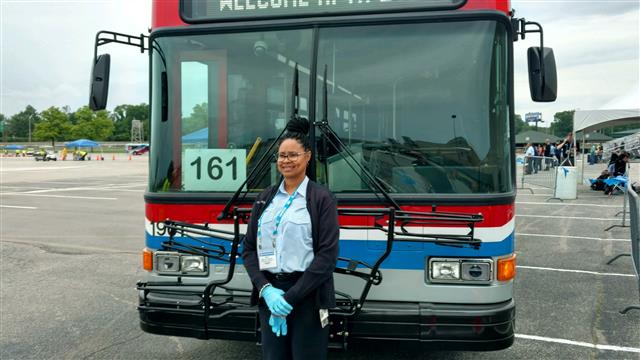 INDIANAPOLIS – IndyGo's Professional Coach Operator Misti El-Shabazz was awarded first place in the Customer Service Challenge Final at the American Public Transportation Association's 2019 International Bus Roadeo in Louisville, KY this week.
"We are so proud of Misti's exceptional work, every day here at IndyGo, and at the Roadeo," said Mike Terry, IndyGo CEO. "When one of us succeeds, all of us at IndyGo succeed."
The International Bus Roadeo provides an opportunity for operators and maintenance experts to engage with other transit agency professionals in a friendly competition of skills, including driving, maintenance disciplines, and customer service. In order to compete internationally, Misti had to win at home first. IndyGo hosted a local Bus Roadeo with 13 "best of the best" Professional Coach Operators vying for a chance to take their talents to the next level. Her achievement at the Roadeo is on the heels of receiving Visit Indy's Recognition of Service Excellence Award this March.
"This was the first year I decided to participate in the Roadeo. With a positive attitude and a smile, you can accomplish anything, and I am thrilled that I was able to make my co-workers and riders proud. It was an honor to represent a job that I love," said Misti.
The competition consisted of a scenario with eight different passengers bringing forward different complaints, concerns, and disruptions. Contestants applied customer service skills while maintaining safe operation of the bus.
"You never know what situation or challenge you will be faced with, and keeping a pleasant demeanor isn't always easy while navigating city traffic, weather, and construction," said IndyGo Vice President of Operations Roscoe Brown Jr..
Misti has been with IndyGo for the past 5 years. In addition to driving a bus, she serves as a training instructor for incoming Professional Coach Operators. This was the first Roadeo Customer Service Challenge win for any IndyGo employee.
About IndyGo:
IndyGo, the Indianapolis Public Transportation Corporation, provides public transit service throughout Marion County. IndyGo is implementing the Marion County Transit Plan, which will bring a 70% increase in IndyGo services and build a strong network of frequent service. Improvements in the plan include shorter wait times, longer service hours, easier transfers, and rapid transit lines along high ridership corridors. Visit 
our website
, follow 
@IndyGoBus
on Twitter, or call 317.635.3344 for more information.