For the past 16 years, I've had the honor of working at IndyGo, and for the last 10, I've been blessed to lead the city's transit team as CEO. As I step down, I look back at a remarkable journey, and I look forward to continued evolution for Indianapolis transit.
When I joined IndyGo in 2003, the corporation was dealing with Federal Transit Administration sanctions and significant financial penalties. Service levels were half what they had been in the mid-'80s due to disinvestment in public transportation at all levels of government. In 2004, a budget crisis resulted in a 20% reduction in service along with a fare increase. Although funding was not going to change, we recognized the community was starting to look differently at the value of transit.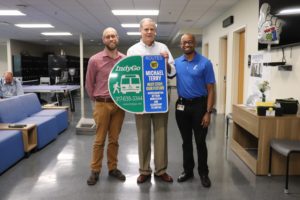 When I was asked to serve as CEO in 2008, we focused on three goals: making IndyGo operationally efficient, environmentally friendly and customer-focused. Capital and operating budgets were lean, but our team stabilized the fleet and began to venture into new technologies. Our first hybrid electric buses hit the streets in 2004, and the federal stimulus funding in 2009 allowed us to upgrade facility environmental systems like HVAC and lighting, and to add 15 more hybrid electric vehicles.
Like every business in America at that time, as we made these changes, we faced skyrocketing healthcare premiums, but we were determined to make the well-being of our employees and their families a priority. We were able to stabilize healthcare costs, as well as introduce a wellness program and on-site primary health clinic that has been a model for other transit agencies.
In 2010, we faced another crisis with the prospects of reductions in our budget and fixed-route service. As we held public meetings to share service plans that would impact thousands of citizens, we heard from more than 500 individuals as they described how service changes would affect them, as well as employers who began to recognize the impact the changes could have on their workforces.
I believe that was the moment when the community truly recognized the value of public transit not as a social-service safety net, but as an economic force. It was about mobility: access to employment, job training, housing, healthcare, education and quality of life. Working with our partners at the Metropolitan Planning Organization and Central Indiana Regional Transportation Authority along with the support of the Indy Chamber, MIBOR Realtors and AARP, we forged the creative transit solution that eventually emerged as the Marion County Transit Plan.
Meanwhile, IndyGo continued to operate efficiently. Successful grant applications allowed us to continue to invest in programs, facilities, vehicles and technologies. We installed a one-megawatt solar energy array and acquired 21 full-battery-powered buses. (The expansion of the solar array will begin this year adding another megawatt of energy for use at our facility.) The LEED Gold-certified Julia M. Carson downtown transit center became a reality, transforming service for our customers.
A key moment in the progression came in 2016 when Marion County voters passed a funding referendum that supported the implementation of the Marion County Transit Plan. Thanks to that effort, on Sept. 1 we will launch the Red Line using 100% battery-electric buses and significant improvements to the local bus network. Accompanying investments in infrastructure – road resurfacing, improved drainage, sidewalk, and curb installation and rehab and upgrades to traffic signalization – will pay major dividends along with the Red Line and the upcoming Purple and Blue Lines.
The IndyGo team continues to reinvent itself as Mobility Integrators, implementing new account-based fare technologies that will reduce barriers, provide greater equity and accessibility and create opportunities for mobility collaborations. As we move forward, I'm delighted to see a transit professional like Inez Evans taking the reins as the next president and CEO. She has the experience, talent and knowledge to continue this organization on its positive arc.
On my own journey, I have been blessed and supported by many people. Family and friends top the list, and they're followed closely by mayors, city councilors, agency leaders and staff, our federal and state elected representatives and staff, ATU leaders, our Mobility Advisory Committee and the IndyGo Board of Directors. And of course, the citizens of our city and our riders. They have been patient, supportive and eager for our exciting plans to be implemented.
It is an incredible time for IndyGo. I am humbled to have been a part of the process, excited for what lies ahead, and, most of all, grateful for the experience. To my city I say, thank you.
Michael A. Terry
President & CEO of IndyGo through Aug. 16, 2019