AM
4:43am
5:13am
5:43am
6:11am
6:25am
6:37am
7:07am
PM
4:36pm
5:06pm
5:54pm
6:20pm
9:05pm
AM
4:51am
5:21am
5:51am
6:19am
6:33am
6:48am
7:18am
7:45am
8:13am
8:43am
9:13am
9:43am
10:13am
10:43am
11:13am
11:43am
PM
12:13pm
12:43pm
1:13pm
1:43pm
2:13pm
2:43pm
3:13pm
3:43pm
4:13pm
4:47pm
5:17pm
6:05pm
6:30pm
7:32pm
9:15pm
AM
4:59am
5:29am
5:59am
6:27am
6:43am
6:58am
7:28am
7:55am
8:25am
8:55am
9:25am
9:55 am
10:25am
10:55am
11:25am
11:55am
PM
12:25pm
12:55pm
1:25pm
1:55pm
2:25pm
2:55pm
3:25pm
3:55pm
4:25pm
4:57pm
5:27pm
6:14pm
6:39pm
7:42pm
9:24pm
AM
5:09am
5:39am
6:09am
6:37am
6:52am
7:07am
7:37am
8:07am
8:37am
9:07am
9:37am
10:07am
10:37am
11:07am
11:37am
PM
12:07pm
12:37pm
1:07pm
1:37pm
2:07pm
2:37pm
3:07pm
3:37pm
4:07pm
4:37pm
5:07pm
5:37pm
6:23pm
6:48pm
7:53pm
9:33pm
AM
5:20am (Bay M)
5:50am (Bay M)
6:20am (Bay M)
6:50am (Bay M)
7:05am (Bay M)
7:20am (Bay M)
7:50am (Bay M)
8:20am (Bay M)
8:50am (Bay M)
9:20am (Bay M)
9:50am (Bay M)
10:20am (Bay M)
10:50am (Bay M)
11:20am (Bay M)
11:50am (Bay M)
PM
12:20pm (Bay M)
12:50pm (Bay M)
1:20pm (Bay M)
1:50pm (Bay M)
2:20pm (Bay M)
2:50pm (Bay M)
3:20pm (Bay M)
3:50pm (Bay M)
4:20pm (Bay M)
4:50pm (Bay M)
5:20pm (Bay M)
5:50pm (Bay M)
6:35pm (Bay M)
7:00pm (Bay M)
8:05pm (Bay M)
9:45pm (Bay M)
AM
604a
704a
804a
900a
1000a
1100a
PM
1200p
100p
200p
300p
400p
500p
602p
653p
753p
AM
616a
716a
816a
913a
1013a
1113a
PM
1213p
113p
213p
313p
413p
513p
615p
705p
805p
AM
628a
728a
828a
926a
1026a
1126a
PM
1226p
126p
226p
326p
426p
526p
627p
717p
817p
AM
640a
740a
840a
939a
1039a
1139a
PM
1239p
139p
239p
339p
439p
539p
639p
729p
829p
AM
650a (Bay M)
750a (Bay M)
850a (Bay M)
950a (Bay M)
1050a (Bay M)
1150a (Bay M)
PM
12:50pm (Bay M)
1250p (Bay M)
150p (Bay M)
250p (Bay M)
350p (Bay M)
450p (Bay M)
550p (Bay M)
650p (Bay M)
740p (Bay M)
840p (Bay M)
PM
1203p
103p
203p
303p
403p
505p
607p
707p
PM
1215p
115p
215p
315p
415p
517p
618p
718p
PM
1227p
127p
227p
327p
427p
529p
629p
729p
PM
1239p
139p
239p
339p
439p
540p
640p
740p
AM
850a (Bay M)
950a (Bay M)
1050a (Bay M)
1150a (Bay M)
PM
1250p (Bay M)
150p (Bay M)
250p (Bay M)
350p (Bay M)
450p (Bay M)
550p (Bay M)
650p (Bay M)
750p (Bay M)
AM
5:30am (Bay M)
6:00am (Bay M)
6:30am (Bay M)
7:00am (Bay M)
7:30am (Bay M)
8:00am (Bay M)
8:30am (Bay M)
9:00am (Bay M)
9:30am (Bay M)
10:00am (Bay M)
10:30am (Bay M)
11:00am (Bay M)
11:30am (Bay M)
PM
12:00pm (Bay M)
12:30pm (Bay M)
1:00pm (Bay M)
1:30pm (Bay M)
2:00pm (Bay M)
2:30pm (Bay M)
3:00pm (Bay M)
3:30pm (Bay M)
4:00pm (Bay M)
4:30pm (Bay M)
4:45pm (Bay M)
5:00pm (Bay M)
5:15pm (Bay M)
5:30pm (Bay M)
6:00pm (Bay M)
6:45pm (Bay M)
8:10pm (Bay M)
9:20pm (Bay M)
AM
5:41am
6:11am
6:41am
7:13am
7:43am
8:13am
8:43am
9:14am
9:44am
10:14am
10:44am
11:14am
11:44am
PM
12:14pm
12:44pm
1:14pm
1:44pm
2:14pm
2:44pm
3:14pm
3:44pm
4:14pm
4:45pm
5:00pm
5:15pm
5:30pm
5:45pm
6:13pm
6:58pm
8:23pm
9:33pm
AM
5:48am
6:18am
6:48am
7:22am
7:52am
8:22am
8:52am
9:23am
9:53am
10:23am
10:53am
11:23am
11:53am
PM
12:23pm
12:53pm
1:23pm
1:53pm
2:23pm
2:53pm
3:23pm
3:53pm
4:23pm
4:56pm
5:11pm
5:26pm
5:41pm
5:55pm
6:21pm
7:06pm
8:31pm
9:41pm
AM
5:56am
6:26am
6:56am
7:34am
8:04am
8:34am
9:04am
9:35am
10:05am
10:35am
11:05am
11:35am
PM
12:05pm
12:35pm
1:05pm
1:35pm
2:05pm
2:35pm
3:05pm
3:35pm
4:02pm
4:33pm
5:08pm
5:23pm
5:38pm
5:53pm
6:06pm
6:32pm
7:17pm
8:41pm
9:52pm
PM
4:11pm
4:48pm
5:23pm
5:38pm
5:53pm
6:06pm
8:52pm
AM
600a (Bay M)
700a (Bay M)
800a (Bay M)
900a (Bay M)
1000a (Bay M)
1100a (Bay M)
PM
1200p (Bay M)
100p (Bay M)
200p (Bay M)
300p (Bay M)
400p (Bay M)
500p (Bay M)
600p (Bay M)
700p (Bay M)
AM
610a
710a
810a
911a
1011a
1111a
PM
1211p
111p
211p
311p
411p
511p
610p
710p
AM
622a
722a
822a
924a
1024a
1124a
PM
1224p
124p
224p
324p
424p
524p
622p
722p
AM
634a
734a
834a
937a
1037a
1137a
PM
1237p
137p
237p
337p
437p
537p
634p
734p
AM
647a
747a
847a
951a
1051a
1151a
PM
1251p
151p
251p
351p
451p
551p
647p
747p
AM
800a (Bay M)
900a (Bay M)
1000a (Bay M)
1100a (Bay M)
PM
1200p (Bay M)
100p (Bay M)
200p (Bay M)
300p (Bay M)
400p (Bay M)
500p (Bay M)
600p (Bay M)
PM
1211p
111p
211p
311p
411p
511p
610p
PM
1223p
123p
223p
323p
423p
523p
621p
PM
1235p
135p
235p
335p
435p
535p
632p
PM
1247p
147p
247p
347p
447p
547p
643p
See the updated Route 31 map that goes into effect September 1, 2019.
Route 31 Serves:
Transit Center
Eli Lilly & Company
Manual High School
Greenwood Park Mall
Greenwood Rural King
Quick Trip Planner
Track My Bus
Already have your trip planned? Use our new Track My Bus feature to follow your bus in real time.
Go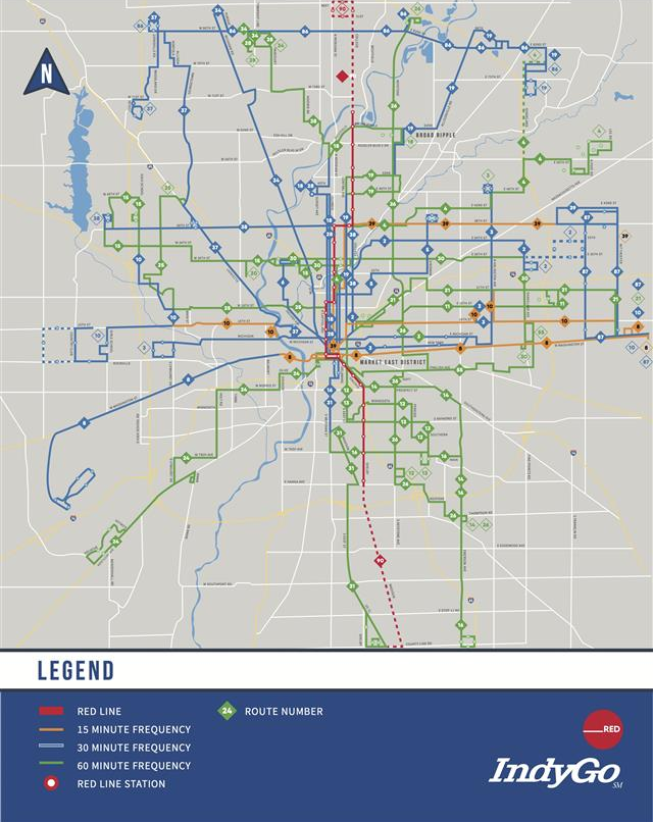 Full System Map
Download the full system map to view all IndyGo bus routes in a PDF.
Download PDF
All Routes Maps
Click the button below to download all of the individual IndyGo route maps.
Download All Routes Map