Updated Wednesday, April 5, 9:10 a.m.
Beginning April 6, bus pad reinforcement and concrete pouring will begin at the Fountain Square north and southbound stations through late April. Vehicular traffic will be detoured around the closure. Riders will find temporary bus stops located on Shelby and Woodlawn streets. See rider detour here.
Updated Wednesday, March 22, 10:10 a.m.
The Raymond Street southbound Red Line station will now be closed, effective today. A temporary southbound stop is located on Raymond Street by the BP gas station. Southbound service is also available at Fountain Square station. See detour here.
Posted Monday, March 6, 4:09 p.m.
INDIANAPOLIS — IndyGo would like to inform riders and motorists that Red Line enhancements will resume in March. This work involves safety upgrades to station platforms and the pavement along the dedicated bus lanes, including the bus pads at each station. The agency wants to remind the public that these upgrades are a regular part of maintenance, yet IndyGo is also taking advantage of the opportunity to conduct more extensive repairs and implement elements that are part of the Purple Line design.   
On or after March 13, bus pad reinforcement and concrete pouring will begin at the Raymond Street northbound Red Line station and the Pleasant Run north and southbound Red Line stations through early April. Vehicular traffic will be shifted to East Street between Prospect and Raymond streets. This work is expected to last three weeks. (See Motorist Detour map below.) 
The following Red Line stations will be closed during this time: Raymond northbound, Pleasant Run north and southbound. A temporary Red Line bus stop for northbound service will be provided from the existing fixed route bus stop on Raymond Street in the westbound lane near the intersection at Shelby Street. Southbound service will be available at Fountain Square and Raymond southbound stations. (See Rider Detour map below.) 
From April through most of the summer, work is expected to progress at stations along Virginia Avenue, Meridian Street and College Avenue. 
Visit the website here for anticipated construction details for each station.   
As a reminder, IndyGo is making these significant improvements to the Red Line to provide additional long-term stability and protect the significant investment made in the system's infrastructure. Work is expected to be complete by August 2023.  
For more information about the project, and to sign up to receive weekly updates, visit IndyGo's website here. 
###
(Motorist Detour Map)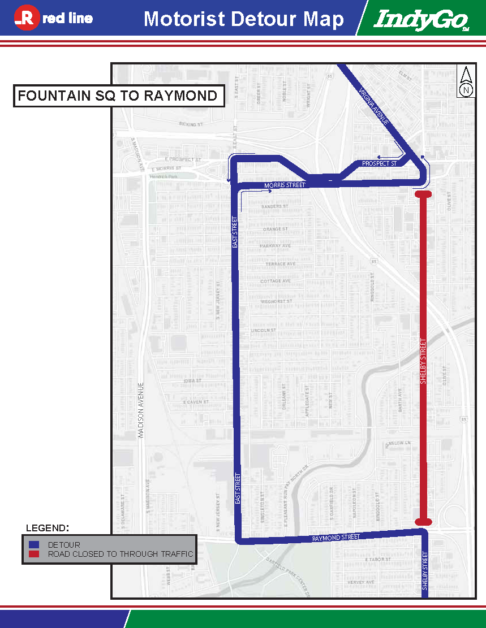 (Rider Detour Map)