AM
5:16am
6:15am
7:11am
8:11am
9:11am
10:11am
11:11am
PM
12:11pm
1:11pm
2:11pm
3:11pm
4:11pm
5:12pm
6:15pm
7:15pm
9:04pm
10:54pm
AM
5:20am
6:19am
7:16am
8:16am
9:16am
10:16am
11:16am
PM
12:16pm
1:16pm
2:16pm
3:16pm
4:16pm
5:17pm
6:19pm
7:19pm
9:08pm
10:58pm
AM
5:34am
6:33am
7:31am
8:31am
9:31am
10:31am
11:31am
PM
12:31pm
1:31pm
2:31pm
3:31pm
4:31pm
5:32pm
6:33pm
7:33pm
9:21pm
11:11pm
AM
5:40am
6:39am
7:38am
8:38am
9:38am
10:38am
11:38am
PM
12:38pm
1:38pm
2:38pm
3:38pm
4:38pm
5:39pm
6:40pm
7:40pm
9:27pm
11:17pm
AM
5:51am
6:50am
7:49am
8:49am
9:49am
10:49am
11:49am
PM
12:49pm
1:49pm
2:49pm
3:49pm
4:49pm
5:50pm
6:51pm
7:51pm
9:36pm
11:26pm
AM
5:59am
6:58am
7:58am
8:58am
9:58am
10:58am
11:58am
PM
12:58pm
1:58pm
2:58pm
3:58pm
4:58pm
5:59pm
6:59pm
7:59pm
9:44pm
11:34pm
AM
6:05am (Bay N)
7:05am (Bay N)
8:05am (Bay N)
9:05am (Bay N)
10:05am (Bay N)
11:05am (Bay N)
PM
12:05pm (Bay N)
1:05pm (Bay N)
2:05pm (Bay N)
3:05pm (Bay N)
4:05pm (Bay N)
5:05pm (Bay N)
6:05pm (Bay N)
7:05pm (Bay N)
8:05pm (Bay N)
9:50pm (Bay N)
11:40pm (Bay N)
AM
6:12am
7:12am
8:12am
9:11am
10:09am
11:09am
PM
12:09pm
1:09pm
2:09pm
3:09pm
4:09pm
5:10pm
6:12pm
7:12pm
8:07pm
9:01pm
10:51pm
AM
6:18am
7:18am
8:18am
9:17am
10:15am
11:15am
PM
12:15pm
1:15pm
2:15pm
3:15pm
4:15pm
5:16pm
6:18pm
7:18pm
8:13pm
9:07pm
10:57pm
AM
6:33am
7:33am
8:33am
9:32am
10:31am
11:31am
PM
12:31pm
1:31pm
2:31pm
3:31pm
4:31pm
5:32pm
6:33pm
7:33pm
8:28pm
9:20pm
11:10pm
AM
6:40am
7:40am
8:40am
9:39am
10:38am
11:38am
PM
12:38pm
1:38pm
2:38pm
3:38pm
4:38pm
5:39pm
6:40pm
7:40pm
8:35pm
9:27pm
11:17pm
AM
6:51am
7:51am
8:51am
9:50am
10:50am
11:50am
PM
12:50pm
1:50pm
2:50pm
3:50pm
4:50pm
5:51pm
6:51pm
7:51pm
8:46pm
9:37pm
11:27pm
AM
6:59am
7:59am
8:59am
9:58am
10:58am
11:58am
PM
12:58pm
1:58pm
2:58pm
3:58pm
4:58pm
5:59pm
6:59pm
7:59pm
8:54pm
9:44pm
11:34pm
AM
7:05am (Bay T)
8:05am (Bay T)
9:05am (Bay T)
10:05am (Bay T)
11:05am (Bay T)
PM
12:05pm (Bay T)
1:05pm (Bay T)
2:05pm (Bay T)
3:05pm (Bay T)
4:05pm (Bay T)
5:05pm (Bay T)
6:05pm (Bay T)
7:05pm (Bay T)
8:05pm (Bay N)
9:00pm (Bay N)
9:50pm (Bay N)
11:40pm (Bay N)
AM
7:03am
8:03am
9:03am
10:03am
10:59am
11:59am
PM
12:59pm
1:59pm
2:59pm
3:59pm
4:59pm
6:03pm
7:18pm
9:03pm
AM
7:09am
8:09am
9:09am
10:09am
11:05am
PM
12:05pm
1:05pm
2:05pm
3:05pm
4:05pm
5:05pm
6:09pm
7:24pm
9:09pm
AM
7:21am
8:21am
9:21am
10:21am
11:18am
PM
12:18pm
1:18pm
2:18pm
3:18pm
4:18pm
5:18pm
6:21pm
7:36pm
9:21pm
AM
7:28am
8:28am
9:28am
10:28am
11:25am
PM
12:25pm
1:25pm
2:25pm
3:25pm
4:25pm
5:25pm
6:28pm
7:43pm
9:28pm
AM
7:37am
8:37am
9:37am
10:37am
11:35am
PM
12:35pm
1:35pm
2:35pm
3:35pm
4:35pm
5:35pm
6:37pm
7:52pm
9:37pm
AM
7:44am
8:44am
9:44am
10:44am
11:43am
PM
12:43pm
1:43pm
2:43pm
3:43pm
4:43pm
5:43pm
6:44pm
7:59pm
9:44pm
AM
7:50am (Bay N)
8:50am (Bay N)
9:50am (Bay N)
10:50am (Bay N)
11:50am (Bay N)
PM
12:50pm (Bay N)
1:50pm (Bay N)
2:50pm (Bay N)
3:50pm (Bay N)
4:50pm (Bay N)
5:50pm (Bay N)
6:50pm (Bay N)
8:05pm (Bay N)
9:50pm (Bay N)
AM
5:15am (Bay N)
6:15am (Bay N)
7:15am (Bay N)
8:15am (Bay N)
9:15am (Bay N)
10:15am (Bay N)
11:15am (Bay N)
PM
12:15pm (Bay N)
1:15pm (Bay N)
2:15pm (Bay N)
3:15pm (Bay N)
4:15pm (Bay N)
5:15pm (Bay N)
6:15pm (Bay N)
7:15pm (Bay N)
8:10pm (Bay N)
9:55pm (Bay N)
AM
5:21am
6:21am
7:21am
8:21am
9:22am
10:22am
11:22am
PM
12:22pm
1:22pm
2:22pm
3:22pm
4:22pm
5:22pm
6:21pm
7:21pm
8:16pm
10:01pm
AM
5:29am
6:29am
7:29am
8:29am
9:30am
10:30am
11:30am
PM
12:30pm
1:30pm
2:30pm
3:30pm
4:30pm
5:30pm
6:29pm
7:29pm
8:24pm
10:09pm
AM
5:39am
6:39am
7:39am
8:39am
9:40am
10:40am
11:40am
PM
12:40pm
1:40pm
2:40pm
3:40pm
4:40pm
5:40pm
6:38pm
7:38pm
8:33pm
10:18pm
AM
5:45am
6:45am
7:45am
8:45am
9:46am
10:46am
11:46am
PM
12:46pm
1:46pm
2:46pm
3:46pm
4:46pm
5:46pm
6:44pm
7:44pm
8:39pm
10:24pm
AM
5:58am
6:58am
7:58am
8:58am
10:00am
11:00am
PM
12:00pm
1:00pm
2:00pm
3:00pm
4:00pm
5:00pm
6:00pm
6:57pm
7:57pm
8:52pm
10:37pm
AM
6:04am
7:04am
8:04am
9:04am
10:06am
11:06am
PM
12:06pm
1:06pm
2:06pm
3:06pm
4:06pm
5:06pm
6:06pm
7:03pm
8:03pm
8:58pm
10:43pm
AM
7:00am (Bay S)
8:00am (Bay S)
9:00am (Bay S)
10:00am (Bay S)
11:00am (Bay S)
PM
12:00pm (Bay S)
1:00pm (Bay S)
2:00pm (Bay S)
3:00pm (Bay S)
4:00pm (Bay S)
5:00pm (Bay S)
6:00pm (Bay S)
7:00pm (Bay S)
8:10pm (Bay N)
9:55pm (Bay N)
AM
7:07am
8:07am
9:07am
10:08am
11:08am
PM
12:08pm
1:08pm
2:08pm
3:08pm
4:08pm
5:08pm
6:07pm
7:07pm
8:16pm
10:01pm
AM
7:15am
8:15am
9:15am
10:16am
11:16am
PM
12:16pm
1:16pm
2:16pm
3:16pm
4:16pm
5:16pm
6:15pm
7:15pm
8:23pm
10:08pm
AM
7:23am
8:23am
9:23am
10:25am
11:25am
PM
12:25pm
1:25pm
2:25pm
3:25pm
4:25pm
5:25pm
6:23pm
7:23pm
8:30pm
10:15pm
AM
7:30am
8:30am
9:30am
10:32am
11:32am
PM
12:32pm
1:32pm
2:32pm
3:32pm
4:32pm
5:32pm
6:30pm
7:30pm
8:37pm
10:22pm
AM
7:44am
8:44am
9:44am
10:47am
11:47am
PM
12:47pm
1:47pm
2:47pm
3:47pm
4:47pm
5:47pm
6:44pm
7:44pm
8:49pm
10:34pm
AM
7:51am
8:51am
9:51am
10:54am
11:54am
PM
12:54pm
1:54pm
2:54pm
3:54pm
4:54pm
5:54pm
6:51pm
7:51pm
8:56pm
10:41pm
AM
7:00am (Bay N)
8:00am (Bay N)
9:00am (Bay N)
10:00am (Bay N)
11:00am (Bay N)
PM
12:00pm (Bay N)
1:00pm (Bay N)
2:00pm (Bay N)
3:00pm (Bay N)
4:00pm (Bay N)
5:00pm (Bay N)
6:00pm (Bay N)
7:00pm (Bay N)
8:10pm (Bay N)
AM
7:07am
8:07am
9:07am
10:07am
11:08am
PM
12:08pm
1:08pm
2:08pm
3:08pm
4:08pm
5:08pm
6:07pm
7:07pm
8:17pm
AM
7:15am
8:15am
9:15am
10:15am
11:16am
PM
12:16pm
1:16pm
2:16pm
3:16pm
4:16pm
5:16pm
6:15pm
7:15pm
8:25pm
AM
7:22am
8:22am
9:22am
10:22am
11:24am
PM
12:24pm
1:24pm
2:24pm
3:24pm
4:24pm
5:24pm
6:22pm
7:22pm
8:32pm
AM
7:29am
8:29am
9:29am
10:29am
11:31am
PM
12:31pm
1:31pm
2:31pm
3:31pm
4:31pm
5:31pm
6:29pm
7:29pm
8:39pm
AM
7:41am
8:41am
9:41am
10:41am
11:44am
PM
12:44pm
1:44pm
2:44pm
3:44pm
4:44pm
5:44pm
6:41pm
7:41pm
8:51pm
AM
7:48am
8:48am
9:48am
10:48am
11:51am
PM
12:51pm
1:51pm
2:51pm
3:51pm
4:51pm
5:51pm
6:48pm
7:48pm
8:58pm
Disclaimer: The map and images below reflect changes to this route that will begin starting Sunday, June 11.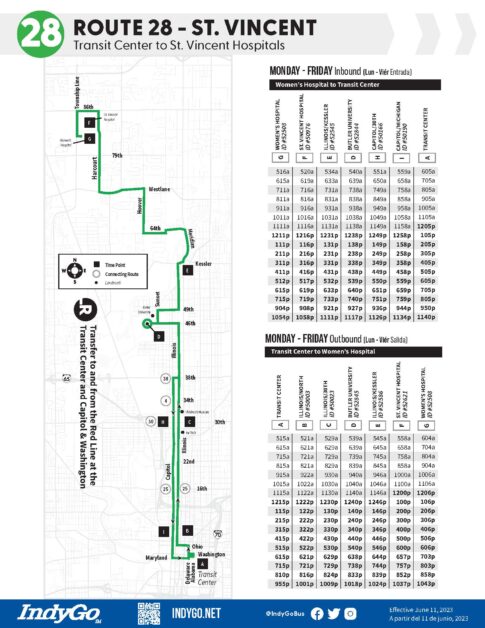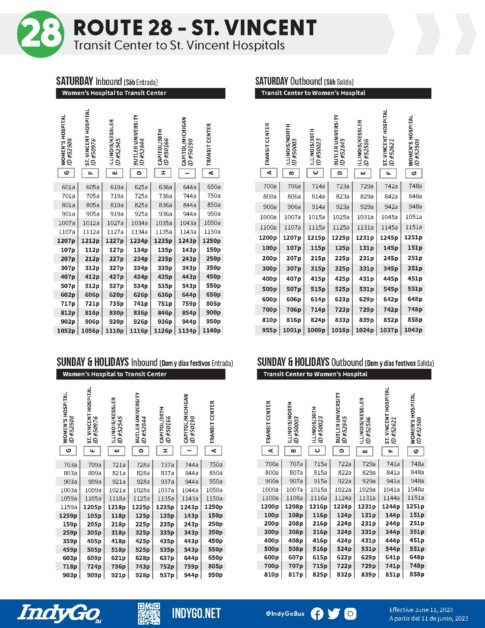 Route 28 Serves:
Transit Center
St. Vincent Hospital
St. Vincent Women's Hospital
Methodist Hospital
Children's Museum
Butler University
Quick Trip Planner
Track My Bus
Already have your trip planned? Use our new Track My Bus feature to follow your bus in real time.
Go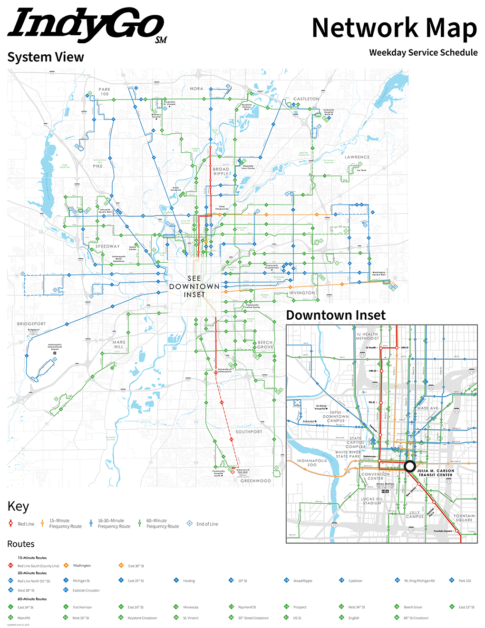 Full System Map
Download the full system map to view all IndyGo bus routes in a PDF.
Download PDF
All Route Maps
Click the button below to download all of the individual IndyGo route maps.
Download Maps