Route 90 Information
Effective Friday, December 20: The Red Line (Route 90) northern extension will no longer travel to 96th Street. College and Lake Nora (before 91st Street) will be the last northbound stop. College & Lake Nora southbound will be the first stop on the northern extension where riders may board to travel south. This routing change will allow Red Line rapid transit vehicles to charge on-route at a temporary charging location.
Certain Red Line (Route 90) rapid transit vehicles continue past 66th St. and University stations. Check the vehicle's headsign to determine if the bus will continue into local service past these two stations. On transit planning apps, riders will see the northern extension called Route 901 and the southern extension called Route 902. However, no transfer is required when traveling on a Red Line rapid transit vehicle continuing into local service.
Service between University and 66th Street will continue to be planned for every 10 minutes on weekdays, with service north of 66th Street and south of University every 20 minutes.
End of Line Policy
IndyGo is piloting a new End of Line policy on the Red Line to allow rapid transit vehicles to receive a charging boost at temporary charging locations on the north and south ends of the Route 90 extensions.
At this time, the policy is only in effect on the northern extension. All riders still on-board when the rapid transit vehicle stops at College & Lake Nora northbound will be asked to exit. This is so that the bus may be serviced and charged during its layover. On-board announcements and signage will inform riders of the last stop.
Quick Trip Planner
Track My Bus
Already have your trip planned? Use our new Track My Bus feature to follow your bus in real time.
Go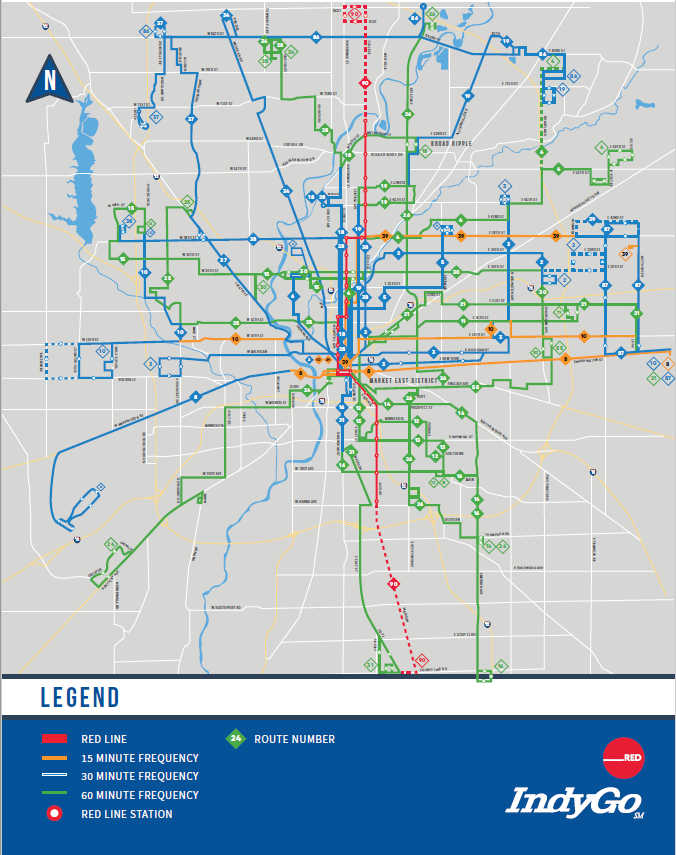 Full System Map
Download the full system map to view all IndyGo bus routes in a PDF.
Download PDF
All Route Maps
Click the button below to download all of the individual IndyGo route maps.
Download Maps