The route changes proposed for June 2020 have been postponed as part of IndyGo's response to COVID-19.
Learn more here.
Project Overview
IndyGo will launch new routing, part of an efficient-grid network that will offer more transfer options, along with improved frequency and longer service hours. Currently, IndyGo operates a hub & spoke system with most transfers happening downtown and limited options for transfers elsewhere.
The proposed grid-based network offers improved route interconnectedness with more options for simpler transfer throughout the region and frequency improvements. This means shorter waits and shorter trips!
We Heard Your Feedback!
IndyGo is committed to creating and managing a service that is efficient and effective for our ridership. Our public outreach efforts enable us to better understand our riders' needs and plan service that works for them. IndyGo held or attended 19 community events about proposed route changes, and received over 230 unique comments about the proposed changes.
Additionally, this proposal has been changed based on public feedback. To learn about the changes, check out the Outreach Summary report below. To view the report of the conducted outreach for the route changes click HERE. To view an Index of the unique comments that IndyGo received during this process click HERE.
The modifications to the proposed route changes are as follows:
Route 2: will serve the intersection of Sutherland and 34th Street
Route 10: on the west side, buses will travel to Raceway Road instead of Country Club Road
Route 12: will serve Perkins, Bethel, and Raymond
Route 19: will continue to serve Community North Hospital
Route 24: will continue to serve Mann Road
Route 26: will use Rural Street instead of the Sherman Avenue detour
Route 30: will reach 46th Street, using Inland Drive to turn around instead of Shore Terrace
Route 31: will use Shelby Street (northbound and southbound) between County Line Road and U.S. 31
Route 34: will continue to serve St. Vincent Hospital
Route 37: will use current routing along Zionsville Rd instead of switching to Woodland Drive
Proposed System Map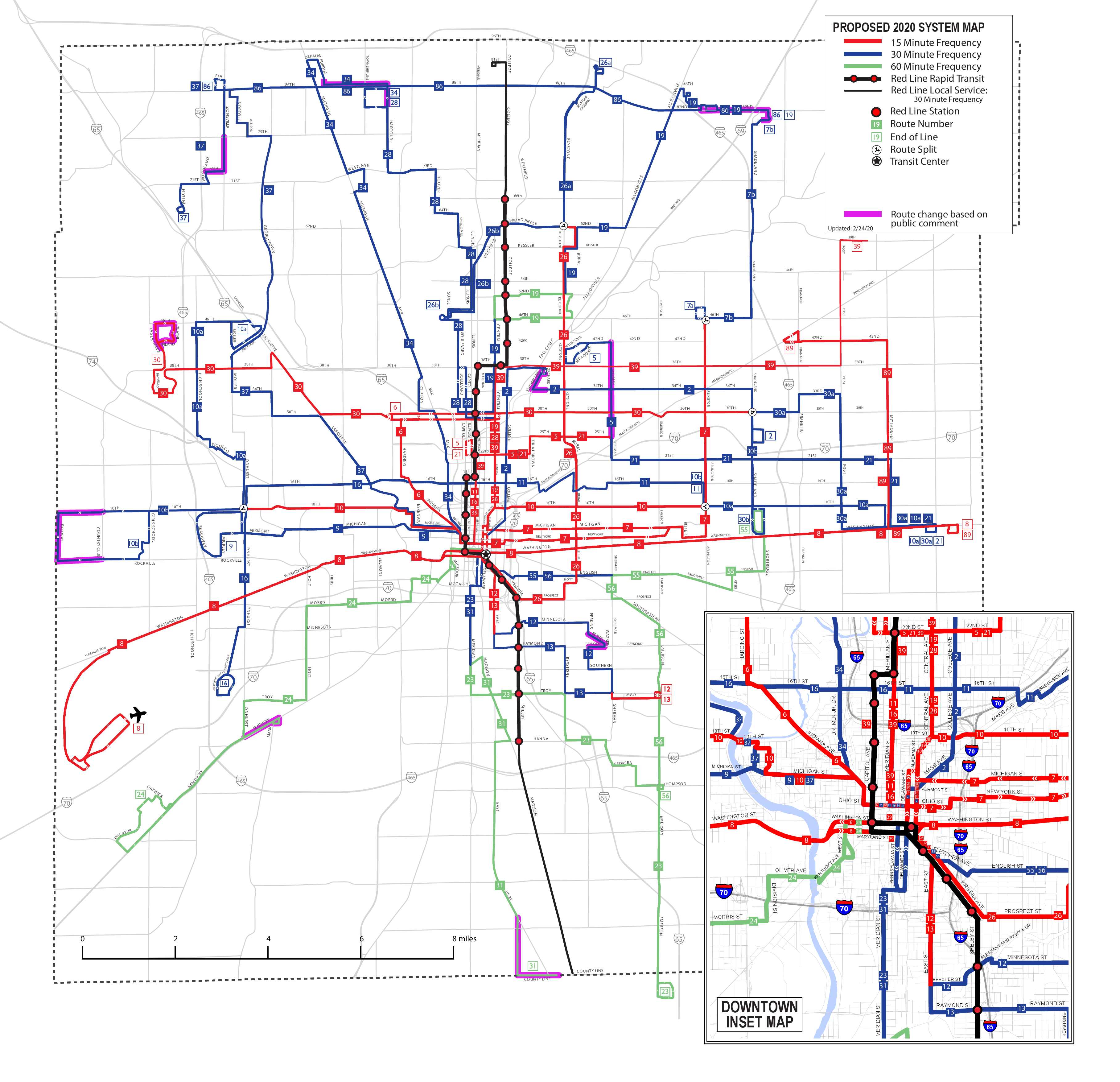 To see a higher resolution image of the map shown above, click HERE.
Discontinued Route Names