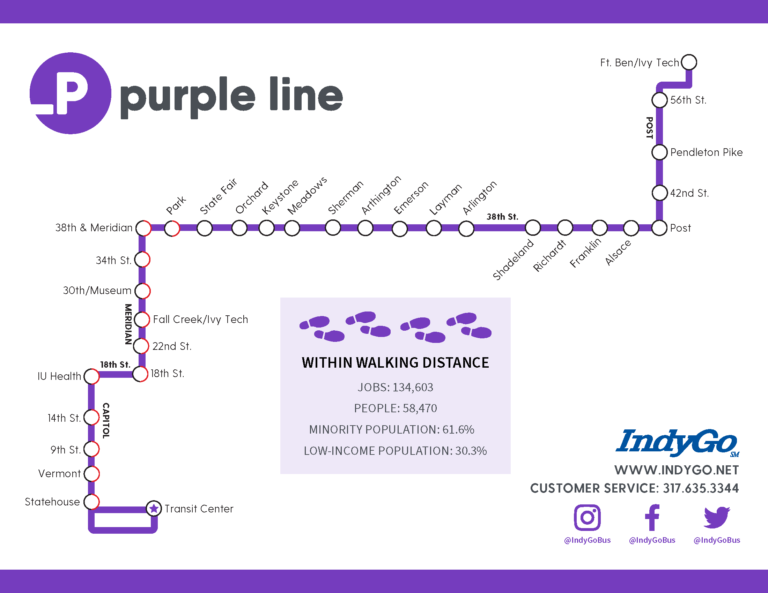 Purple Line Project Map
The Purple Line brings it all together. Once completed, it will extend 15.2 miles between Indianapolis and the City of Lawrence. The Purple Line will run through several neighborhoods, past major employers, cultural institutions, and healthcare and educational facilities with fast, frequent and reliable service.
Mon – Fri
5 a.m. – 1 a.m. every 10-15 minutes
Sat
6 a.m. – 1 a.m. every 10-15 minutes
Sun
7 a.m. – 10 p.m. every 10-15 minutes
Purple Line Configuration
Utilizing rapid transit vehicles developed specifically for operation on IndyGo's BRT lines, the Purple Line will follow IndyGo's current Route 39 — one of IndyGo's highest ridership routes. In fact, segments of routes 4, 38 and 39 currently overlap to comprise portions of the Purple Line corridor.
The Purple Line will share alignment and stations with the Red Line from the Julia M. Carson Transit Center to 38th Street and Park Avenue. In this segment, shared stations will benefit from 5 – 7-minute service as Purple and Red line buses alternate on this stretch. East of the Park Avenue station, the Purple Line will continue on 38th Street to Post Road. It will then travel north to Ivy Tech's Lawrence Campus.