Project Overview
The Red Line runs from Broad Ripple through downtown Indy to the University of Indianapolis, giving you convenient access to several neighborhoods, major employers and cultural institutions with frequent, comfortable rapid-transit service. The route comes within a quarter-mile of more than 50,000 residents and nearly 150,000 jobs — that's one out of every four jobs in all of Marion County.
For 20 hours each day, seven days a week, your transit ride will arrive at each Red Line station every 15 minutes.
Future Phases
The Red Line corridor is proposed to connect the cities of Westfield, Carmel, Indianapolis, and Greenwood with frequent and reliable transit service.
In the Marion County Transit Plan, the Red Line will eventually extend to both the north and south county lines. The southern extension will take the Red Line from the University of Indianapolis to County Line Rd on Madison Ave. Two northern extension alignment potentials are still in discussion. Public Meetings and input on the Marion County Extensions will take place in the future.
Construction and operational funding for the Red Line Extensions within Marion County were included in the Marion County Transit Plan referendum. Funding has not been identified for the construction and operation of the Red Line extensions in Hamilton and Johnson counties. Any future Red Line extension outside of Marion County will depend on local jurisdictions to commit local funds for construction and operation.
Marion County Extensions
In Marion County, the Red Line will be extended to both the north and south county lines. The southern extension will take the Red Line from the University of Indianapolis to County Line Rd on Madison Ave. Two northern extension alignment potentials are still in discussion. Public Meetings and input on the Marion County Extensions will take place in the future.
Hamilton Country Extension
As proposed, the Hamilton County Extension of the Red Line will run from the northern boundary of Marion County up to Grand Park in Westfield. Early design work was funded through a Transportation Investment Generating Economic Recovery (TIGER) Grant and local funds from Carmel and Westfield. IndyGo has engaged pertinent stakeholders and worked with Carmel and Westfield on preliminary engineering details.
Environmental Review for Grand Park Station 
A proposed Red Line Station in Westfield at Grand Park will be located on an existing parking lot. The station would not adversely affect the activities, features, or attributes associated with Grand Park, in adherence to Section 4(f) of the Department of Transportation Act of 1966. Based on the analysis conducted by IndyGo, it is the intent of the FTA to issue a de minimis or minimal impact finding.  You can view the public notice here in English. Noticia en Español.
Johnson Country Extension
The Johnson County Extension will run from County Line Rd down to Smith Valley Rd along Madison Avenue in Greenwood. Early design work was funded through a Transportation Investment Generating Economic Recovery (TIGER) Grant and local funds from Greenwood. IndyGo has engaged the relevant stakeholders and worked with Greenwood on preliminary engineering details.
File Archive
Welcome to IndyGo's curated archive of documents and files relating to the Red Line project. As the project has evolved over time, so have the documents associated with it, so please note that several documents may have been updated multiple times, and each should indicate the date of those changes and/or additions and reflect when they became effective.
Project Overview
Project Milestones
Alternative Analysis 
National Environmental Protection Act (NEPA) Report
Operations Plan Overview
Traffic and Parking Studies
Board Decisions
Public Presentations
List of Project Meetings/Outreach
Red Line Renderings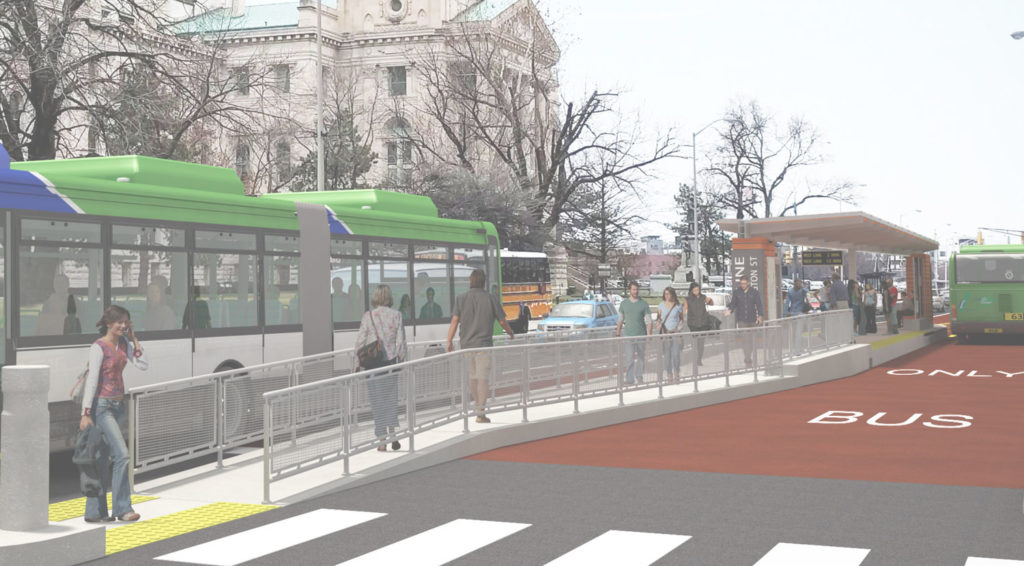 Community Tools
The items below are tools for members of the community and businesses to find resources before, during and after construction of the Red Line.
Red Line Questions
Now that construction is nearly complete, if your question cannot be answered with the online tools, all questions should be directed to customer service at 317-635-3344.
Transit Impact Study
The Indianapolis Metropolitan Planning Organization (MPO) conducted a Transit Impact Study to measure before/after outcomes related to investment and land-use along the Red Line corridor. Surveys were mailed to both residents and businesses along the line to gather information. Visit the Transit Impact Study page to learn more information.
Creative Placemaking Program
In January 2018, 3C Indy, a partnership between Transit Drives Indy and the Arts Council of Indianapolis, chose local artists for a multi-year placemaking program that aims to create a new culture of public transit in Indianapolis.
3C Indy is designed to educate and engage communities, and promote and monitor progress throughout the implementation of the Marion County Transit Plan.
Why did we build the Red Line?
The Red Line provides access to work, education, health care, restaurants, entertainment, and shopping. It's a cornerstone of a comprehensive set of transportation options serving Indianapolis and central Indiana and offers an alternative to using autos for people of all ages. The Red Line corridor is the densest population and employment corridor within Marion County, and the pedestrian-friendly environment it will create along the route will extend the rapid transit benefits to communities and neighborhoods all along its path.
In general, Bus Rapid Transit systems provide many of the benefits of light rail at a fraction of the cost. BRT systems provide increased frequency, reliability, comfort, and convenience relative to local bus services. The permanence of BRT infrastructure supports increased private investment in the corridor, contributing to increased economic opportunity and quality of life. 
Why did we build the Red Line before the Purple (East 38th) or Blue (Washington Street) lines?
The Red Line has greater population and employment density than the Purple or Blue Lines. In addition, the Red Line has more households, more retail space, more student trips, more social trips, and a higher number of low-income households than the other corridors. The current development patterns adjacent to the Red Line corridor are also generally denser and more pedestrian-friendly than the other two corridors, providing an urban context that is more conducive to promoting ridership.
As a result of the Red Line's strengths on these and other measures, it was the first corridor in Indianapolis submitted for competitive federal funding under the Federal Transit Administration's Small Starts program. IndyGo currently plans to pursue federal support for the Purple and Blue lines in the future.
How was the alignment for the Red Line determined?
Throughout 2013, the Indianapolis Metropolitan Planning Organization (MPO), the Central Indiana Regional Transit Authority (CIRTA), and IndyGo worked with consultants to study various north to south routes throughout central Indiana for the placement of the Red Line. This report is commonly referred to as the Red Line Alternatives Analysis (or AA).
North of downtown, an area from roughly Ditch Road to Dean Road was studied; south of downtown, the team examined an area from Bluff Road to Sherman Drive. The study was conducted for the entire Red Line corridor (including later phases stretching north into Hamilton County and south into Johnson County). The current Red Line corridor was selected from various alternatives within those considered geographies.
The final AA report serves as the culmination of the entire Red Line planning process and summarizes all analyses, findings, recommendations, and outcomes of the planning process and all of its component parts.
What makes the selected route the best option?
Employment density is the top predictor of transit ridership, and the Red Line connects several neighborhoods to the state's largest concentration of jobs (downtown), the state's largest hospital, Ivy Tech, IUPUI, and UIndy. The corridor represents one percent of IndyGo's service area while representing 15 percent of all IndyGo boardings.
The Red Line corridor demographic, on average, represents a lower income level than Indianapolis as a whole, so excellent public transportation is essential to them. The Red Line will enhance dependable, convenient transportation options for all the residents living within the corridor — options every vibrant community needs — while increasing access to employment opportunities and institutions of higher education.
Many of the neighborhoods adjacent to the corridor are dense, mixed-use, pedestrian-friendly areas that create an urban context where transit use is easy and convenient. For example, it is easier and more comfortable to access a transit stop from a townhome or sidewalk café than it is from a subdivision or large-scale retail operation. The selected corridor was chosen over other adjacent corridors for several factors, not the least of which was its quality of the pedestrian experience and ease of access for potential riders.
What was the cost of the Red Line construction?
Construction of the Red Line was budgeted for $96.3 million, which includes nearly $25 million in contingency to cover any unforeseen expenses or cost inflation. Nearly 40% of the budget is for infrastructure improvements including sidewalks, ADA ramps, draining, pedestrian crossings, signals, and re-paving. 
How was the Red Line's construction paid for?
Construction of the Red Line was funded primarily through a $75 million federal Small Starts grant. Additional federal resources are being provided through a federal Transportation Investment Generating Economic Recovery (TIGER) grant already in place. Local match for these two grants is being provided by the City of Indianapolis, IndyGo, the City of Carmel, the City of Westfield, and the City of Greenwood. However, should the federal Small Starts grant not be available, the project will move forward with local funding from the approved transit income tax.
How will the Red Line's operating expenses be paid for?
Red Line operations will be funded through IndyGo's annual operations budget. IndyGo's operational budget is derived from several sources, including federal formula funds, the Indiana Public Mass Transportation Fund, several sources of local funds, fare revenue, advertising revenue, and other sources of earned revenue.
Current ridership
Segments of routes 12, 14, 17, 19, 22, 38, and 39 overlap to comprise the Red Line corridor. The ridership along this corridor prior to the launch of the Red Line is 6,000 trips per day, accounting for 22 percent of all daily ridership within the IndyGo system.
Fares and Fare Collection
The Red Line will operate under the same fare structure as local IndyGo service. MyKey, IndyGo's updated fare system will provide off-board fare payment and collection at ticket vending machines and validators at each station. Additionally, riders may use their mobile app or reloadable card to pay and board rapid transit. Cash will still be accepted on board for a 2-hour Transfer Ticket or Day Pass.
Fare Enforcement
The Red Line will utilize a "proof of payment" system for fare collection, where fares will be paid at ticket vending machines on the station platform, through a mobile app, or some other form of fare media. To ensure compliance with the fare policy, IndyGo will employ fare-enforcement officers to randomly check passengers for proof of payment.
How will the Red Line impact local transit service?
The Red Line is one element of the Marion County Transit Plan; and as such, optimal route alignments are being identified. It is likely that local routes that once traversed the same corridor as the Red Line will now feed into the Red Line, providing the potential for more frequent service in those areas.
IndyGo will inform the public about any potential impacts to IndyGo customers, commuters, local businesses and the general public.
Service Hours, Schedule, & Frequency
The Red Line is planned to be operational from 5 a.m. to 1 a.m. every day of the year. A Red Line vehicle will arrive at each station every 15 minutes during peak service, and on an adjusted schedule during non-peak times.
Buses/Bus Specifications
The Red Line will utilize 60' articulated buses with doors opening on either side of the bus. The buses will be fully electric, with a range of up to 275 miles. 
Bicycle infrastructure
Buses will provide space for 2 bicycles onboard the vehicle. Bicyclists will board at a designated door nearest the space for bicycle storage, and platform-level boarding will enable bicyclists to conveniently and easily roll their bikes on and off each bus. There will be no bike rack for bicycle storage on the front of the BRT buses.
Dedicated Lanes
To ensure the Red Line can maintain its speed and frequency, it must avoid any delays caused by congestion or traffic incidents. To that end, the Red Line operates on dedicated lanes where traffic volumes are sufficient to create the potential for delays. Specifically, the Red Line operates in a single, dedicated, bi-directional lane on College Avenue (with the lanes separating on either side of each station). The Red Line operates in separate, unidirectional lanes on Meridian Street and Capitol Avenue. The Southern portion of the Red Line on Virginia and Shelby do not have dedicated lanes due to the physical limitations of those narrow streets. Traffic volumes on Virginia and Shelby are also lower than College, 38th, Meridian, and Capitol. Dedicated lanes are marked and striped with "Bus Only," and in some cases, painted red to delineate them from regular car lanes. Emergency vehicles can also use the dedicated lanes. 
Electrical Charging Infrastructure
The battery capacity of the buses is sufficient to allow all charging to take place at the IndyGo facility; additional infrastructure will be installed along the route for wireless charging – allowing vehicles to stay in service during a full day.
Median and Raised Curbs
A slightly raised curb, measuring four inches in height and eighteen inches in width, is used on Meridian Street and College Avenue to minimize potential conflicts between BRT vehicles and cars that could result from a car turning left across a bus lane with a through-traveling bus. To compensate for reduced direct access to the driveways of residences and businesses along these corridors, U-turns are permitted at signalized intersections with a protected left turn phased into the traffic signal cycle.
On Meridian Street, the raised curb is separate from the two bus-only lanes. Along College Avenue, the raised curb is in the center of the bi-directional bus-only lane.
Both the IFD and IMPD have approved the design of the 4″-high, 18″-wide curb and feel comfortable that their vehicles can negotiate it if and when they need to cross it.
Stations
The inspiration for the Red Line station was established through a design competition that took place in the summer of 2016 (more info here).
After a public vote and a juried review by a panel of local experts and community representatives, Sean Morrissey's design was selected as the winner. IndyGo's design consultants have worked to adapt Morrisey's concept into a final, functional design for actual construction.
The stations are designed with specific attention to making the Red Line convenient for passengers and ensuring fast and frequent operation of the Red Line.
Canopy Roof. The canopy structure has been inverted from the original design to help control the flow of rainwater to provide for a more convenient and comfortable boarding process.
Lighting. Lighting is positioned to provide a well-lit, secure boarding area while minimizing impacts to adjacent properties.
Real-Time Arrival Information. Each station is equipped with a digital marquee sign showing real-time arrival information for the next bus.
Security. In addition to being well lit, stations incorporate security cameras and emergency "blue-light" phones for reporting emergencies. 
Ticket-Vending Machines. Each station is equipped with ticket vending machines for passengers to purchase fares prior to boarding the bus, providing additional convenience to passengers, speeding the boarding process, and ensuring consistent operations of the transit vehicle. These machines will accommodate cash and credit/debit card transactions.
Windscreens. The stations include windscreens to protect passengers from inclement weather while waiting for the next bus.
Accessibility. The Red Line buses and stations are fully accessible and step-free in accordance with the American Disabilities Act. All stations feature a gradual ramp to help riders get up to the 15-inch height of the platform. The height of the platforms will be level with the floor height of the bus as it pulls up directly next to the platform. This allows all riders to board or exit the BRT vehicle smoothly without the need for a ramp or the bus to kneel.
Businesses
The IndyGo team is committed to working with local businesses and property owners to minimize the impact that construction has on businesses. Early in 2017, the IndyGo team took surveys of businesses along the corridor to understand the concerns of each business as it related to operating hours, deliveries, how customers access their business and other issues.
During construction, the IndyGo team also minimized the time that any one place is under construction by completed all construction activities in one location before moving on to other locations. The IndyGo team also worked with neighborhoods and local businesses to ensure there is adequate signage to show business access during construction.
Research suggests that communities with fixed-route transit have lower unemployment rates, lower rates of employee turnover, and higher labor-force participation. For individual businesses, access to transit promotes a deepening of the labor pool from which they are able to draw qualified employees. For individual businesses, the long-term benefits of proximity to new BRT services have not been widely studied; the number of variables related to those individual businesses, their financial health before the BRT service, and other factors make it difficult to project potential benefits or impacts to any single business.
Environmental
Bus Rapid Transit provides positive benefits for the environment. Research shows that commuters can save hours of travel time by shifting to BRT. By proxy, this reduces both the hours they sit in idling vehicles and vehicle-miles traveled. BRT also translates into better local air quality and reduces the likelihood of road fatalities and crashes. (More information is available here.)
By using electric buses, IndyGo will reduce its consumption of diesel fuel and the emissions that result from diesel vehicles. In addition, zero-emission, fully electric buses produce little to no noise pollution, allowing the buses to operate without impacting nearby people or activities. It is anticipated that at least some of the energy required to charge the buses on a daily basis will be derived from the solar panels atop IndyGo's facility. 
Neighborhoods
Neighborhood character and context
Nearly all of the neighborhoods along the Red Line corridor were once served by streetcars and/or the interurban, and the urban form of these neighborhoods were influenced — and often driven by — these transportation modes. The Red Line replicates this service.
Investment and economic impact
The increase in transit capacity can also support an increase in investment and employment within the corridor. The Cleveland HealthLine stimulated $5.5 billion in investment after its opening in 2008. Several studies have found that the implementation of a BRT system leads to an increase in the number of jobs within the transit corridor, as well.
Impact on crime
Increases of transit capacity and frequency, and the introduction of new transit service, has not been found to result in an increase in criminal activity. Further, the introduction of well-lit stations with security cameras and other security systems can result in a safer pedestrian environment. Some studies have shown a decrease in criminal activity following the introduction of increased transit service. (Research is available here and here.)
Parking
The impact on adjacent street parking will vary throughout the corridor. Along College Avenue, roughly 20 percent of street parking has been removed; generally, these impacts occurred adjacent to station areas and signalized intersections. There is no impact to street parking on cross streets in the corridor. Along Meridian Street and Capitol Avenue, one lane of parking has been removed from the current street configuration to accommodate the addition of bus lanes; our models show that there is still adequate supply to meet parking demand in these areas. In the Fletcher Place and Fountain Square corridor, only a few parking spaces were removed to accommodate stations.
For more information, see the Red Line parking analysis here.
Property Owners
Research suggests that proximity to a Rapid Transit service increases the values of nearby properties. (A sample of this research includes Bowes and Ihlanfeldt (2001);Baum-Snow and Kahn (2000); Garrett (2004); Hess and Almeida (2007).
Traffic
During Construction, the Red Line team updated the community with the construction schedule and timeline that determined when each corridor would see construction activity. As each corridor went under construction, the IndyGo team worked with the construction management team and contractors to target activities within the corridor to minimize the length of time any single area is under construction.
The Red Line team coordinated with the Department of Public Works and Citizens Energy to align our construction activities with road closures they have planned. (DPW will be replacing the Capitol Avenue bridge over Fall Creek, and Citizens Energy will be closing Meridian Street at 28th Street for their Fall Creek Tunnel Project.) Red Line activities were aligned with those projects to minimize additional impacts on traffic during construction.
Following Construction.
In modeling the impact of Red Line operations on existing traffic, we generally found that the Red Line would not result in levels of service that were below what is commonly recognized as an acceptable level (a level of service D for urban streets), or, in places where traffic already operates below an acceptable level, make traffic congestion any worse than it is. The design of the Red Line was able to achieve a maintenance of an acceptable and/or current level of service in all locations with the exception of the intersection of College Avenue and Kessler Boulevard, where a modest decrease in the existing level of service triggered a categorical downgrade from a "D" level of service to an "E" level of service.
Left Turns and U-Turns with BRT
To maintain on-time transit service, safety for pedestrians and drivers, and traffic flow, many segments of IndyGo's upcoming Red, Purple and Blue BRT Lines will operate in exclusive or semi-exclusive center-running lanes. This means that the lanes are only for use by the BRT and emergency vehicles, or may only be used by motor vehicle traffic under certain conditions.
When BRT is traveling in Bus Only Lanes, drivers will only be permitted to turn at signalized intersections for their safety. All signalized intersections will include a protected U-Turn phase, and construction will include the addition of new signals to improve safety and flow. See video below:
College Avenue. The combination of left turn restrictions/lanes and removing local buses actually improves traffic flow in the southbound direction, which is currently one lane. Northbound, the street will change from two lanes to one lane, with the addition of protected left turn lanes and a removal of underlying local bus service. We anticipate roughly 2.5 percent of afternoon rush hour trips (those using the northbound lanes) being shifted off of College Avenue in favor of parallel north-south streets (Pennsylvania Ave., Meridian St., Washington Ave., and Central Ave.). This represents roughly 25 additional cars during the afternoon rush hour on each street.
At each signalized intersection, a left turn lane and protected left turn signal phase ("green arrow") will be in place that will allow drivers to make a legal and easy U-turn to access mid-block driveways on the opposite side of the street. 
Meridian Street. In the morning and afternoon rush hours, our model suggests a 25 percent decrease in traffic volume. These trips are expected to be shifted to transit and/or vehicular trips on adjacent streets. The increase in traffic volume on parallel streets is expected to be no more than two percent above their current traffic volumes.
At each signalized intersection, a left turn lane and protected left turn signal phase ("green arrow") will be in place that will allow drivers to make a legal and easy U-turn to access mid-block driveways on the opposite side of the street. 
Capitol Avenue. Capitol Avenue currently operates with traffic volumes far below its capacity. With the addition of dedicated lanes for operation of the Red Line, existing traffic volumes will remain below the street's capacity, resulting in no significant congestion.
South Side. The operation of the Red Line on the south side will look similar to existing local bus service (curb-side stations, operating in mixed traffic), and traffic impacts are expected to be minimal.
Transit Riders
When the BRT system replaces local service on IndyGo's busiest corridor, current transit riders will benefit from increased convenience, frequency, and reliability. In addition, transferring from local route service to the Red Line will reduce wait times before boarding and travel times after boarding.
After implementation, BRT riders will have improved, more-frequent access to nearly 150,000 jobs, major hospitals, three institutions of higher education, cultural and community assets, and several neighborhoods.
I'd love to use transit more often but it takes too long, and I can't be late for work. How will BRT change that?
One of the main purposes of implementing BRT is to improve the reliability and frequency of the system so more people want to use transit. During morning and afternoon commutes BRT service would run every 10 minutes, meaning you would never have to wait long to catch a ride. Other BRT features such as pre-board ticketing, transit-only lanes and transit-signal priority at busy intersections will also add to an improved transit experience. One more plus: You won't need to pay for parking.
Will the Red Line replace the local bus service that currently operates on the same streets?
Yes, underlying local service that runs on the same streets as the Red Line will be removed.
Could I get off the bus anywhere I want along the route?
The Red Line will stop at designated stations only. Generally, stops are anywhere from ¼ to ½ mile apart.
Will there be park and ride facilities?
As part of the project, IndyGo will not be building any new parking facilities such as garages or park and ride lots. Phase 1 of the project is located in the urban core of Indianapolis where many people are within walking distance of the line. We are working with community partners to utilize existing assets that are currently underused. For example, there is a parking garage in Broad Ripple at the intersection of College Ave and Broad Ripple Ave. That garage is a conveniently located existing facility and would be a good location to provide a park and ride for commuters. We'll be exploring similar opportunities on extensions of the Red Line, Blue and Purple BRT lines.
What is the plan for snow removal on the Red Line?
All IndyGo rapid transit stations feature a ​​snowmelt system in which will melt snow from stations. The Department of Public Works (DPW) ​salts and plow​s streets, including dedicated bus-only lanes.
Why will DPW remove snow for IndyGo?
​DPW maintains the city's right-of-way areas which include roadways.  By Indianapolis city ordinance, clearing sidewalks is the responsibility of ​adjacent business or residential property owners. IndyGo is responsible for ​bus station ramps and platforms.
Where can I find more information about this partnership? ​ 
The Interlocal Cooperation Agreement between IndyGo and DPW provides additional information about the partnership.
What happens if the snowmelt system does not work?
In the event that the snowmelt system does not operate as it should, the IndyGo team will have contracted crews clear the areas. IndyGo is responsible for removing snow and salting IndyGo facilities and properties, including all IndyGo rapid transit stations.